Point 1

NITech will establish a new six-year integrated undergraduate and graduate course, "Creative Engineering Program."

The Creative Engineering Program will develop capabilities to produce new values in technology from a broad perspective as well as diverse values overviewing the whole field of engineering.

Not limited to a major, students from the second semester of their 1st year to the first semester of their 3rd year will experience "laboratory rotation" in various fields every two months. From the second semester of their 3rd year, they will belong to a laboratory and engage in full-scale research activities. Of course, students will have opportunities to study other subjects as necessary. In graduate school, more advanced subjects will be available, and students will learn the latest knowledge in a major and necessary subjects in other fields.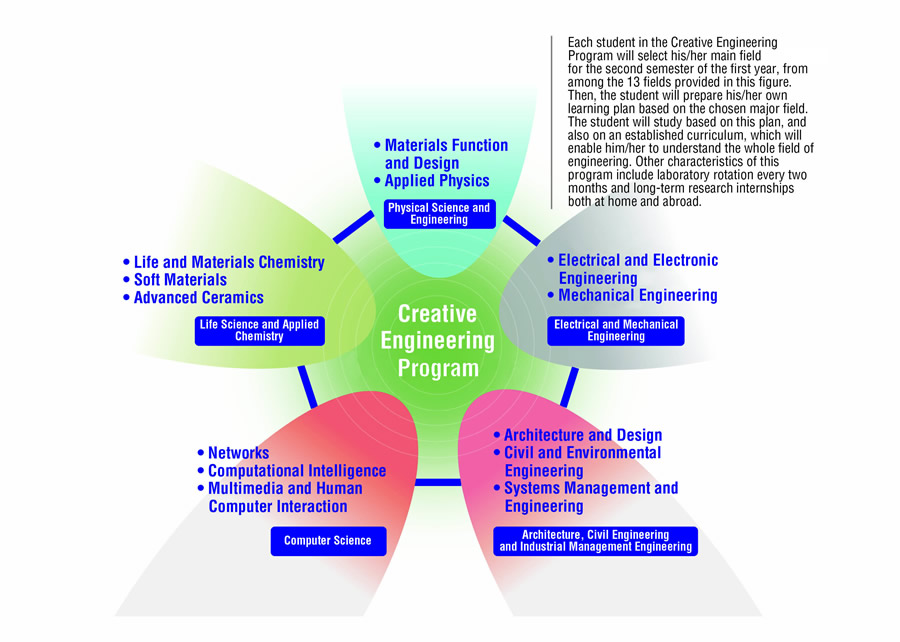 Point 2

The existing seven departments will be reorganized into five departments.

The Advanced Engineering Program consists of "Life Science and Applied Chemistry," "Physical Science and Engineering," "Electrical and Mechanical Engineering," "Computer Science," and "Architecture, Civil Engineering and Industrial Management Engineering."
The Advanced Engineering Program seeks:
Students with a deep, broad interest in engineering, science, and technology, and who possess the mathematical and scientific background necessary for those fields in particular.
Students driven by intellectual curiosity, who are looking to challenge themselves with new problems, and who are motivated to create objects and systems.
Students who are eager to contribute to the welfare of humanity in harmony with nature as future researchers and engineers.
---