Disaster relief ICT equipment sent for Iwate University
Category:News|Publishing : May 17, 2011
---
Nagoya Institute of Technology dispatched ICT equipment to Iwate University on the 6th of May in an attempt to help the reconstruction procedure from the Tohoku Earthquake.
After two months from the quake, the stricken areas are still in short of various materials, among which ICT equipment is strongly required to resume local administration, school education, and regional industries.
Iwate University has been working hard on getting hold of the equipment and has asked several educational and research institutions for donation.
Nagoya Institute of Technology quickly responded to this request, and collected following devices: 16 notebook PCs, 7 laser printers, 6 ink-jet printers, 1 scanner, 1 photocopier, 32 hubs, 5 wireless APs, and 20 mice.
These were initialized and updated by technical staff and sent to Iwate University. They are scheduled to be delivered to shelters.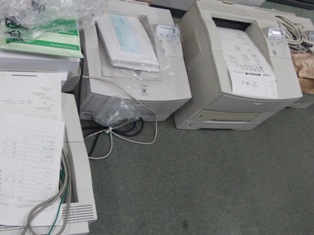 Devices collected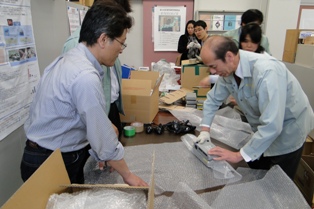 Packing devices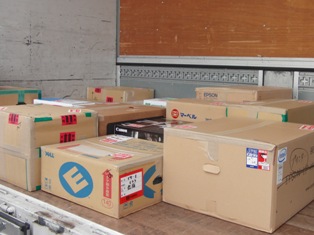 Devices on board
ICT (Information and Communication Technology) equipment:

Devices used for information and communication technology, such as computers, graphics tablets, projectors, image scanners, and digital cameras.
---