Opening of NITech Liaison Office at UiTM
Category:News|Publishing : March 19, 2013
---
Nagoya Institute of Technology (NITech) has finally launched the overseas liaison office at Universiti Teknologi MARA (UiTM) in Shah Alam, Malaysia. This office is designed to contribute to global development, collect international information, and to recruit and train excellent human resources.

To celebrate its grand opening, a great opening ceremony for the office was held on 1st March, 2013. It was truly amazing to see the blessing ceremony performed surrounded by the participants, including NITech group led by the President Dr. TAKAHASHI, Prof. IWAMOTO (the Director of NIT International Center), Prof. SOGA (the Head of NITech Liaioson Office at UiTM), the UiTM group headed by Vice-President Prof. Ir. Dr. Sahol Hamid Abu Bakar, Prof. Dr. Mohd Nasir Taib (Dean of Electrical Engineering), Asso. Prof. Dr. Hayati Mohd Dahan (Director Office of International Affairs), and other honored guests.
This office will play a key role to attract brilliant students and researchers or to expand global network not only in Malaysia but also in Southeastern Asia. For the purpose, NITech will willingly hold some workshops, seminars or other promotional activities at the office.
Furthermore, NITech has a plan to establish another overseas liaison office in Germany, Europe. We strongly hope that NITech will expand its global network more widely through these overseas liaison offices in the future.
Opening Ceremony 1
From Left:
Prof. Ir. Dr. Sahol Hamid Abu Bakar, (the Vice President of UiTM), Dr.Minoru TAKAHASHI (the President of NITech), Prof. Yuji IWAMOTO (the Director of NIT International Center)


Opening Ceremony 2
From Left on the Front Line
Prof. Dr. Mohd Nasir Taib, (Dean, Faculty of Electrical Engineering), Prof. Ir. Dr. Sahol Hamid Abu Bakar (the Vice President of UiTM), Dr. Minoru TAKAHASHI (the President of NITech) Prof. Yuji IWAMOTO (the Director of NIT International Center)


The Faculty of Electrical Engineering of UiTM is located in this building

In front of NITech Liaison Office at UiTM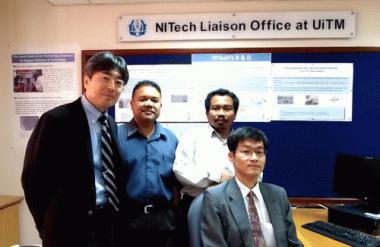 In NITech Liaison Office at UiTM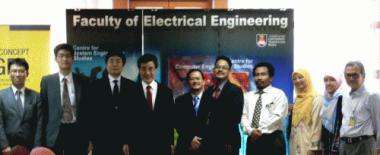 With the UiTM faculty members of Faculty of Electrical Engineering
---