Advanced Ceramics Research Center (ACRC) signed a MOU with Indian Institute of Mineral & Materials Technology (IMMT)
Category:News|Publishing : August 26, 2013
---
The Nagoya Institute of Technology (NITech), Advanced Ceramics Research Center (ACRC) signed a Memorandum of Understanding with the Institute of Mineral & Materials Technology (IMMT) in Bhubaneswar, Odisha State of India. On 11 August, 2013, the signing ceremony was held at IMMT. In addition to Prof. Masayoshi Fuji, Director of ACRC, Dr. Minoru Takahashi, the President of NITech attended the ceremony. Dr. Takahashi delivered a lecture at the International Conference on Frontiers in Energy, Environment, Health and Materials Research (EEMR-2013) associated with the Japan Society for the Promotion of Science (JSPS) Indian Alumni Association, which was scheduled in Bhubaneswar on the following 12-13 August. The IMMT counterparts were Prof. B.K. Mishra, Director, Dr. Bimal P. Singh, Chief Scientist & HOD and Dr. Sarama Bhattacharjee, Chief Scientist.
NITech will promote various researches cooperation including researchers' exchange in the field of environment, resource and energy etc. with IMMT located in Odisha State that is blessed with natural resources. The news has been published in the 5 Indian newspapers and reported on TV.
So far, ACRC has reached research cooperation agreements with the Institute of Carbon Fibers and Composites of the Beijing University of Chemical Technology, the Institute of Particle Science and Engineering of the University of Leeds and the Korea Institute of Ceramic Engineering and Technology.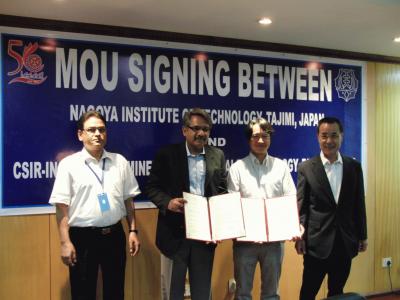 After the ceremony, the agreement is unveiled.
From the left, Dr. Bimal P.Singh, Chief Scientist & HOD, Prof.B.K. Mishra, Director,
Prof. Fuji, Director of ACRC and Dr. Takahashi, President of NITech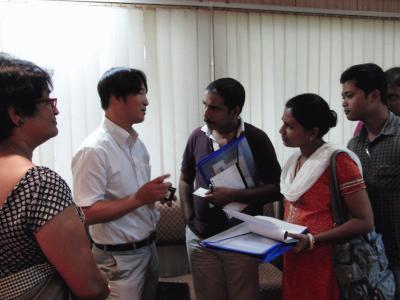 Indian media interview with Prof. Fuji, Director of ACRC.
The second from the left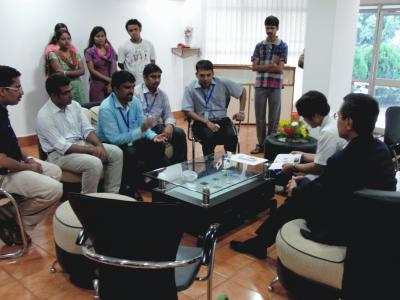 After the ceremony, Dr. Takahashi and Prof. Fuji exchange views with IMMT researchers.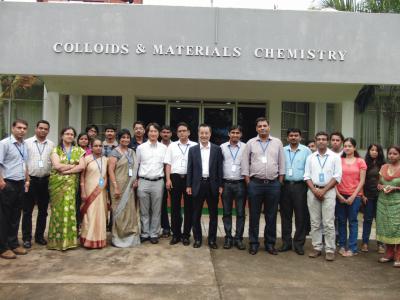 Group photo in front of Colloids & Materials Chemistry lab.
---