Automobili Lamborghini ACSL established a laboratory at NITech.
Category:News|Publishing : November 14, 2013
---
On 12 November, Nagoya Institute of Technology (NITech) established a research hub named ACSL Japan within a campus in alliance with Italian Lamborghini which is famous for luxury super cars. The objective of the research hub is high-volume of production of carbon fiber reinforced plastic (CFRP). NITech invites Dr. Paolo Feraboli, Director of ACSL at Washington University, USA who is an expert on CFRP as a professor and will collaborate closely with companies especially in Chubu area that automobile and aviation industries are concentrated. They will intend to apply CFRP to wide-range products such as automobiles, aircrafts, golf clubs and fishing instrument.
What is CFRP (Carbon Fiber Reinforced Plastic)?
10 times stronger and 1/5th the weight of metal
CFRP is the unification of carbon fiber and resin materials.
Having low density features than aluminum or steel metals, its dynamic material properties consist of a high strength to weight ratio. CFRP is used in such large scale industries as Aviation and Automobiles (F1 Racing) as well as for daily items such as golf clubs, tennis rackets, fishing poles, automobile chassis, and computer motherboards.
What is ACSL?
The Automobili Lamborghini ACSL is located in William E. Boeing Department of Aeronautics & Astronautics at the University of Washington (UW). The ACSL was established in 2007 under the direction of Professor Paolo Feraboli. The ACSL has also contributed to increasing Automobili Lamborghini's experience with carbon fiber composite materials by performing joint research with Boeing Research & Technology on novel out-of-autoclave material forms and developing analytical predictions of composite structures undergoing crash deformation.
Who is Dr. Paolo Feraboli ?
Dr. Paolo Feraboli is a Research Professor in the William E. Boeing Department of Aeronautics and Astronautics at the University of Washington, and the Director of the Automobili Lamborghini Advanced Composite Structures Laboratory (ACSL). Since he joined UW in 2005, Dr. Feraboli has received over $3.8 million in external research funds for various projects related to the development of analytical and experimental techniques for composite materials, mostly from Automobili Lamborghini S.p.A, The Boeing Company, and the Federal Aviation Administration (FAA). Dr. Feraboli's expertise is in out-of-autoclave materials and technologies, damage tolerance, lightning strike, repair technology, and crashworthiness. He is the recipient of the 2010 Young Investigator Award from the American Society for Composites (ASC), the 2008 Hayashi Memorial International Award of the Japan Society for Composite Materials, the 2004 ASC Outstanding Ph.D. Research Award, and the 2003 SPE Automotive Division Student Award. He served as Chair of the Durability and Damage Tolerance Technical Division of ASC, and Secretary of the AIAA Materials Technical Committee. Dr. Feraboli earned his Ph.D. in Mechanical Engineering at the University of California, Santa Barbara, and holds a Laurea degree in Mechanical Engineering from the University of Bologna, Italy.
What is Forged Composite?
Rather than laying up carbon fiber in sheets and impregnating it with resin like ypical carbon fiber manufacturing, Forged Composite uses a paste of fibers (500,000 turbostratic fibers per square inch) mixed with resin that is squeezed out to make almost any shape. Since the fibers aren't oriented in any particular direction, the finished part is strong all around, while remaining light. Lamborghini and Callaway teamed up together to develop a new way of using carbon fiber that helps open the door to making parts that may once have been too complex to do using traditional methods. The outcome is called Forged Composite and it's already being used in Callaway golf clubs as well as Lamborghini's Sesto Elemento concept car. Lamborghini utilized Forged Composite on both the monocoque chassis as well as the suspension arms on the new Sesto Elemento concept car.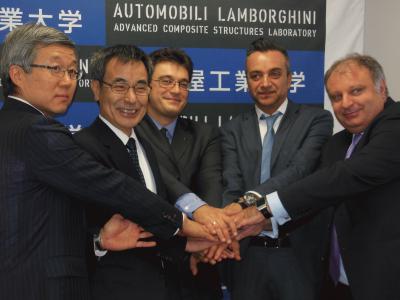 From the left, Vice President Eryu, President Takahashi, Prof.Feraboli, Director of Autobili Lamborghini ACSL,
Dr.Masini of Automobili Lamborghini S.p.A, Mr. Trombetta, Counsellor of Italian Embassy in Japan.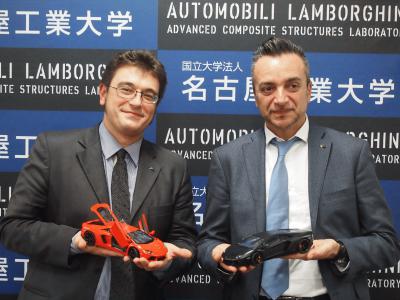 From the left, Prof. Feraboli, Director of Automobili Lamborghini ACSL, Dr. Masini of Automobili Lamborghini S.p.A.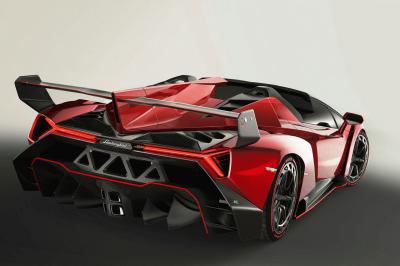 Lamborghini Veneno Roadster applied CFRP
---