Solar Car Club won second place in Olympia Class of FIA ALTERNATIVE ENERGIES CUP Solar Car Race Suzuka 2014.
Category:News|Publishing : September 30, 2014
---
Article writer: Mr. Paul Kiggundu (Uganda), Electrical and Electronic Engineering Department

Solar Car Club won second place in Olympia Class of FIA ALTERNATIVE ENERGIES CUP Solar Car Race Suzuka 2014.
Solar car club is one of the famous clubs in Nagoya Institute of Technology formed in 1992 as a result of the research in solar cell application conducted in Umeno laboratory of the university. However, the actual club activities commenced in 1995.
Solar car club does not only encompass activities that embolden students to employ the knowledge obtained from classroom studies to manufacture solar cars but also emphasizes team work. The importance of team work is maximizing utilization of the human resource in order to come up with new innovations. The club also points at the significance of conservation of the environment.Every year, through the collective efforts of the students, solar cars are manufactured with utmost efficiency to ensure a favorable competition and great performance at the yearly solar car rally challenge in summer.
As a student of electrical and electronic engineering, I thought it would be lucrative to be part of the club. In addition to exercising the knowledge I acquire in class, it supplements the general understanding of engineering as it renders a training ground for creation of new ideas through excogitation by dealing with problems of science and engineering on the globe.
Also being from Uganda, a developing country, I consider studying in Japan of great benefit since it is one of the most economically and technologically advanced countries. It is also a great opportunity to interact and work with Japanese students, especially my fellow club members who exhibit a commendable level of self-driven and teamwork as well as investing utmost attention to whatever they do during the club activities.
The sole idea of the solar car is basically utilizing the sun as the energy source. The advantage of solar energy is that it is environmentally-friendly and less expensive as compared to fossil fuel energy which produces deleterious pollutants liable to greenhouse effect that leads to global warming. One of the biggest problems Uganda faces today is excessive usage of fossil fuels as the energy source, especially in industries. Therefore utilizing inexpensive and environmentally-friendly solar energy will reduce energy costs and eradicate environmental pollution making Uganda a healthier and a more economical place to live.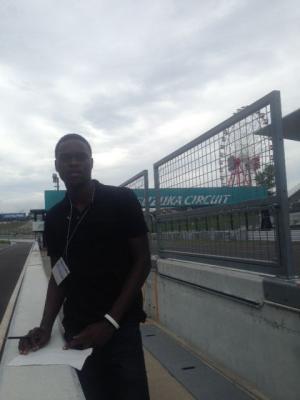 Mr. Paul Kiggundu (Uganda), article writer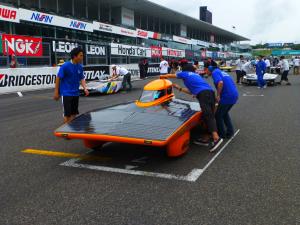 Before rally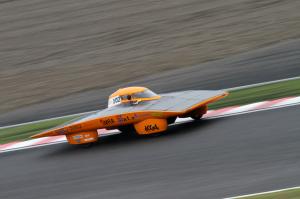 NITech soloar car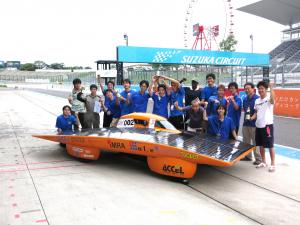 Club members
---