2014 Fall Entrance Ceremonies, 12 international students newly joined.
Category:Notice|Publishing : October 2, 2014
---
Nagoya Institute of Technology (NITech) conducted its fall 2014 Entrance Ceremony on 1 October.
NITech welcomed 12 new graduate students. They are from India, Vietnam, Malaysia and China.
President Hiroyuki Ukai welcomed the new students, charging them to, "Since the society is globalizing rapidly, such as in economy, industry, people and also education. Universities are required appropriate innovations to the era. We need to exert efforts to play a role in innovations of science and technology in order to solve global issues and open the way toward the future in all field. I wish you to strengthen your ability as a sophisticated professional in broad perspective."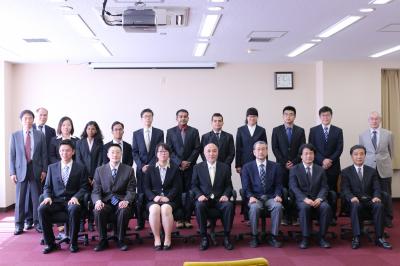 After the ceremony, commemorative photo taken with President and the other professors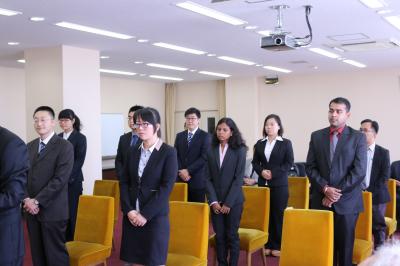 The Ceremony scene
---