PERSON : Dr. Bashir Ahmad Muhsen (Afghanistan)
This corner focuses on a person who has made remarkable achievements at NITech.
April 2015
Dr. Bashir Ahmad Muhsen (Afghanistan)
Alumnus of Nagoya Institute of Technology
Associate Professor of Kabul University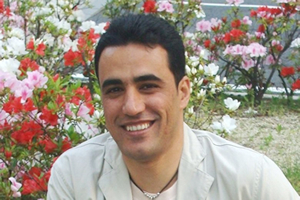 After three decades of civil war and the Taliban invasion of Afghanistan, my country was left in ruins. The international community offered political and financial support, though the lack of specialists for the reconstruction of Afghanistan was deemed a serious challenge. In particular, the use of non-standard, unsafe design and low quality infrastructure was a concern. With experts in demand, I decided to continue my studies in Japan. I chose Japan as it has been an important donor to Afghanistan's rehabilitation and has a positive image within the country. Furthermore the existence of large and continual seismic activity, which is a research interest of mine, motivated me to select Japan and the prestigious Nagoya Institute of Technology (NITech) where I could specialize in this area.
I enrolled in October 2006 and first experienced culture shock on arrival at Narita Airport, Tokyo. The Japanese letters (Kanji characters) were displayed on every sign. I thought that I would never be able to read these characters. As well as the indecipherable language, the most challenging experience was the high cost of goods and daily living. I took compulsory Japanese lessons to improve my language skills and understand daily life including how to shop and eat with the chopsticks. I'll never forget how kind my Japanese teachers, and future lecturers Professor Yamamoto, Professor Iwatsu were with us. There are many ways to enjoy life in Japan and make both Japanese and international friends. I spent my weekends playing volleyball around Nagoya and eating delicious international foods with new friends.
I entered the master course in April 2006. After taking various modules in structural engineering, I investigated and completed my thesis in "Finite Element Analysis of RC Beam-Column Connections Subjected to Seismic Loading". My research was overseen by Dr. Hisashi Umemura (my Supervisor) and, though there were language and cultural differences between us, the mentorship was extremely productive and beneficial for me. Through conversation and technical discussions I improved my Japanese, which helped me to enjoy my life there and engage in research. His expert knowledge of computer programing improved mine, including the use of the LINUX system with over than 10 important engineering programs. I remember fondly my time in his dynamic and impressive laboratory.
Initially, I had only planned to be in Japan for two years for my master degree and then return to home. However, my goals changed and appeared more achievable in Japan. As there is lack of research institutes in Afghanistan, I decided to specialize in existing international building codes, and started my PhD in April 2009. I proposed a new imperial model to the Twelfth East Asia-Pacific Conference, EASEC-12 in Hong Kong, and a new accurate theoretical method for aseismic resistance of RC beam-column connections to AIJ (Architectural Institute of Japan).
On returning to my country in April 2012, I felt reverse culture shock. It was challenging to live in Afghanistan with the lifestyle habits of Japan. I focused on developing our educational system, including establishing a kindergarten to help foster societal change from a grassroots level. Currently, I am an associate professor at Kabul University engaged in academic promotion and publication committees, a panel expert of the ministry of higher education to investigate/advise private universities, as well as director of the engineering consultancy Gyros Afghanistan.
I enjoyed my stay in NITech and hope to keep in touch with the professors I know and the international exchange division. I've grown as a researcher and individual through my experiences with the kind, hardworking and efficient people of Japan. I am proud to be an alumnus of NITech and, with the life long friendships I developed, think of Japan as my second home.
---