Advanced Biomaterials Research Laboratory
Industry Partner
Imperial College London, et al.
Period
Nov. 2015 - Mar. 2018
Representative
Prof. Toshihiro Kasuga
Members
Nagoya Institute of Technology (NITech)
Prof. Toshihiro Kasuga
Prof. Takeo Matsumoto
Assoc. Prof. Akiko Obata
Assoc. Prof. Toshihisa Mizuno
Imperial College London
Prof. Julian R. Jones (Prof. of NITech)
University College London
Dr. Gavin Jell (Assoc. Prof. of NITech)
The University of Manchester
Dr. Gowsihan Poologasundarampillai (Assoc. Prof. for project of NITech)
Theme
The goal of this project is to develop the world's first "bioceramics with cells manipulating activities," by mutually exchanging and inviting young researchers and integrating their technologies and knowledge. The development of these functional bioceramics will make possible the formation of artificial tissues which closely resemble the original living tissues, and will be a great breakthrough as materials which will open up the way to new regenerative medicine.
(1) Development of a bioceramic matrix which allows introduction and immobilization without deactivating biomolecules
(2) 3-D structuring of materials, evaluation of physical properties and chemical structural analysis
(3) Expression of functions by culturing cells on biomolecule-immobilized bioceramics, and evaluation of effectiveness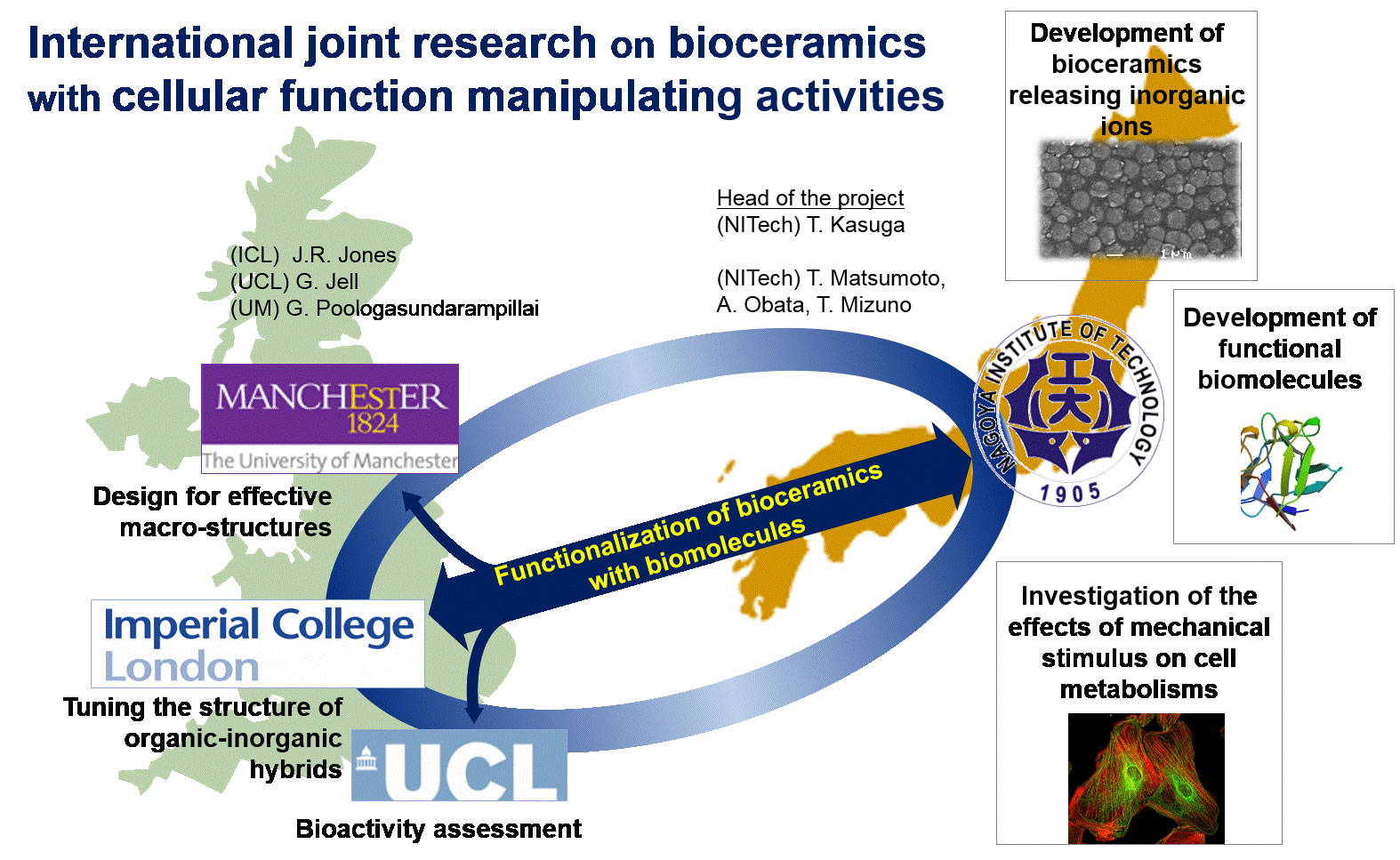 Contact Us
Address
International Affairs Office: kokusai
* Please add @adm.nitech.ac.jp to complete the address.
(establishment date: April,2016)
---