Minister Counsellor (Education) of Royal Thai Embassy in Japan visited Nagoya Institute of Technology
Category:News|Publishing : May 15, 2013
---
On 9th May, 4 members of Royal Thai Embassy, Tokyo, Japan, including Minister Counsellor (Education), Ms. Alinee Thanawatsuggasari, visited Nagoya Institute of Technology (NITech).
This visit is aimed at paying a courtesy call to President, Dr. Minoru TAKAHASHI, introducing Exchange Program to Japan for undergraduate students which is supported by Thai Government, and collecting information on entrance exam to international students.
After paying a courtesy call to the President, Dr. Minoru TAKAHASHI, we had a meeting with our professors. Dr. Hiroyuki UKAI, Vice-President, who is the officer of Education and Entrance Examination administration, explained our examination to Privately Financed Students and Ms. Alinee Thanawatsuggasari shared information on Exchange Students Program to Japan which is supported by Thai Government. We had an active exchange of views.
Regarding to exchange between Thailand and NITech, we accept students from Thailand as private funded and government-sponsored international students. NITech also concluded Academic Exchange Agreement and MOU for students exchange with Thammasat University in 2004 and concluded same agreement with Thai-Nichi Institute of Technology and Chulalongkorn University. We have been continuing close exchange with Thailand over 10 years.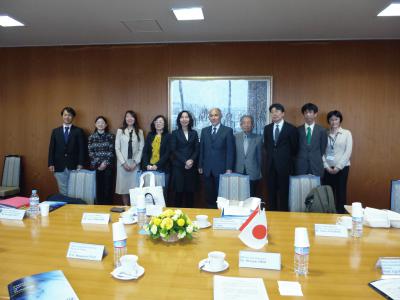 Meeting with Vice-President Dr. UKAI and our Professors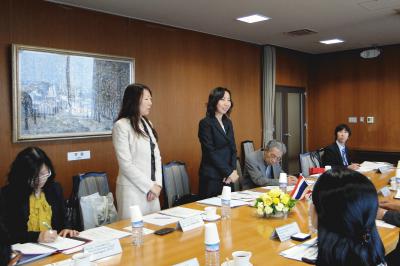 the meeting's Situation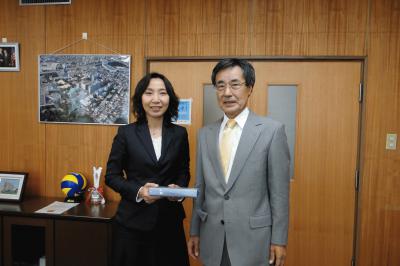 Greeting with the President, Dr. TAKAHASHI
---