Students from Universiti Teknologi MARA Visited Nagoya Institute of Technology
Category:News|Publishing : January 21, 2015
---
The total of 13 people, including 12 graduate students and one professor from Universiti Teknologi MARA (UiTM), stay in Nagoya Institute of Technology (NITech) from January 13th to February 2nd. This visit is a part of "Japan-Asia Youth Exchange Program in Science" called "SAKURA Exchange Program in Science"* which is implemented by the Japan Science and Technology Agency (JST).
UiTM and NITech have expanded its student exchange and research collaboration since 2005. In 2005, NITech concluded the Agreement for Academic Exchange and Cooperation with UiTM. In 2010, both universities concluded the Memorandum for Student Exchange Program. In addition to the partnership, in 2013, NITech established the Liaison Office in Malaysia on the UiTM campus. By holding international symposiums together, both universities are very active in research cooperation.
The major purpose of UiTM students' visit is to conduct collaborative research with Prof. Soga in the field of Nanotechnology, in particular the research on synthesizing of Nanomaterials, its evaluation and application.
On January 14th, UiTM students participated in an orientation, made courtesy call on President Ukai, and took lectures from Prof. Ichikawa, Prof. Kawasaki, Assist. Prof. Kishi, and Prof. Soga. After the lecture, they have started engaging in the collaborative research at NITech.
*"SAKURA Exchange Program in Science" is the program of inviting Asian youths to Japan for a short period of time through the collaboration of industry-academia-government in order to facilitate interactions between Asia and Japan of the youths in the field of science and technology. Through cultivating their potentials, this program aims at contributing to the development of science and technology in both Asia and Japan.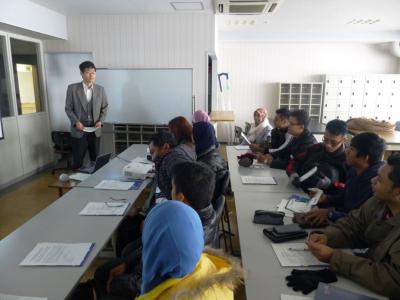 A Welcome Speech from Prof. Soga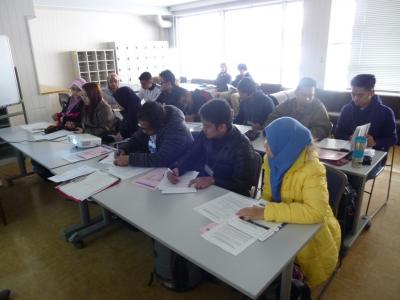 A Picture at Orientation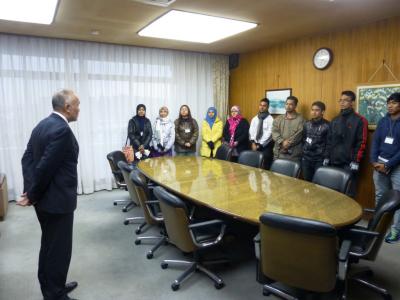 A Courtesy Call to President Ukai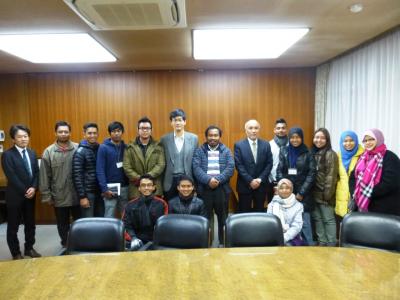 A Group Photo around President Ukai
---