Accommodation for current students
NITech Cosmo Village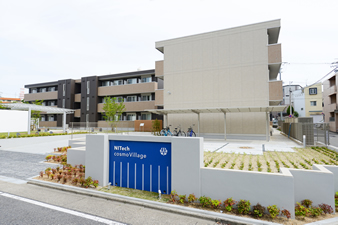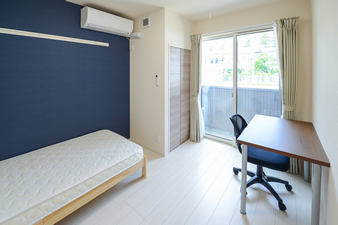 NITech Cosmo Village is a dormitory for international and Japanese students.Students studying at NITech for more than six months are eligible for applying.All rooms are single use.
Eligible students may move into the dormitory in April or October.
Address
〒466-0062
27-1, Hazama-cho, Showa-ku
Nagoya, Aichi, Japan
NITech International House
1.Number of Rooms
Building A
43 Single rooms, 5 Couple rooms (Studio room, Bathroom), 5 Laundry room
Building B
2 Family rooms (Living and dining room, Parents' bedroom,
Children's room including bunk bed, Bath, Separate toilet)
Building C
6 Couple rooms (Studio room, Bathroom)
NITech International House is furnished with a bed, desk, chair, dining table, clothing wardrobe, kitchen, bath with shower, refrigerator, air-conditioning, and shoebox.
2.Use of the Lobby and Washitsu
| | |
| --- | --- |
| Hours of Use | 8:30-2:00 (including clean-up) |
Use of any alchol and heating appliance is strictly prohibited (ie; electiric hot plate, etc)
Students may meet and hold parties in the Hall lobby and washitsu (Japanese-style) rooms. Permission in such cases must be obtained in advance, so please apply to NITech International House manager at least 7 days prior to the day you wish to use these rooms. You may not apply the same day you wish to use a room. If you disregard any rules, including those prohibiting alcohol and smoking or the requirement to clean up afterwards, you will no longer be permitted to use these facilities.
Use for the Common Rooms and other facilities
If you would like to use "Lobby""Japanese room"or"Counseling room"for meetings and social gathering, please submit a prescribed form to international affairs office.
Japanese room is abailable for an overnight stay after residents leave from NITech International House. Residents need to apply at international affairs office.
3.NITech International House Tutors
NITech International House has Japanese students staying among the international students as tutors. In addition to daily living concerns, international students should seek help with any difficulties they encounter or issues they do not understand by talking to a tutor first. The tutors are available in shifts on weekdays from 20:00 until 22:00 in the first-floor tutor room.
4.NITech International House Address
Single-Room Dormitories (Bldg A)
Nagoya Institute of Technology International House 3-58-1 Hanadacho,
Chikusa-ku, Nagoya-shi 464-0857
b.Family and Couples's Dormitories (Bldgs B and C)
Nagoya Institute of Technology International House
35-4 Azakishi, Gokisocho, Showa-ku, Nagoya-shi 466-0064
<Important!> Buildings A and B are located in different wards. Residents of Building A have to go to the Chikusa Ward Office for different procedures, while residents of Building B have to go to the Showa Ward Office.
If additional accommodations become available through NIT International House (under the administration of the Nagoya International Center) or company dormitories make accommodations available, students will be notified through the electronic bulletin board. Please be sure to check the bulletin board regularly.
4.Resident's Rules
5.Tutors'page
Apartments
If you are looking for a private apartment to rent, please ask a friend or tutor for help, or contact a real estate agency directly. Some apartment information is also provided to the International Affairs Office by real estate agencies. The NITech CO-OP may also assist in finding an apartment.
Fees to Pay When Renting an Apartment
| | |
| --- | --- |
| Initial Fees | Key Money (kenrikin or reikin), Deposit (shikikin) |
| Monthly Fees | Rent (yachin), Maintenance (kyoekihi), Utilities (konetsuhi, konetsusuiryo) |
| Kenrikin(Reikin) | A non-refundable processing fee paid initially to move in, normally equalling 1 month-rent. |
| Shikikin | A damage deposit paid in advance, partially refunded when you move out again. |
| Kyoekihi | A non-refundable processing fee paid initially to move in, normally equalling 1 month-rent. |
| Note | When acquiring an apartment through a real estate agency, a processing fee normally amounting to 1 month-rent must be paid. Some other fees might not be required, depending on the property. Other expenses may also vary according to the apartment building. Be sure to check what fees apply before renting. |
There is a possibility of eviction when rent is not paid, garbage is not properly sorted or put out at the proper place and time, rooms become especially dirty, noisy parties are held at night, and other rules and proper etiquette are not followed. Japan is a country of strict rules. We ask everyone to follow the rules and to live in a manner that does not cause trouble for those around you.
Comprehensive Renter's Insurance for International Student studying in Japan
A guarantor is usually needed when renting an apartment in Japan. It is possible for the International Student Association to act as a guarantor, provided that the student obtains Comprehensive Renter's Insurance for International Student. Insurance premiums for 1 year cost 4,000yen; for 2 years, 9,000yen. Students interested should bring a contract or an application for tenancy issued by landlord to the International Student Affairs Office. The office will issue an application and payment slip of Insurance premiums. As soon as the payment has been made, please submit all necessary documents with Professor's confirmation. Processing time is approximately 7 days after the submission. If you plan to continue living in your apartment and past your insurance's expiration date, you must renew your insurance and pay another premium. Please, be aware that if you do not renew your insurance, the International Student Support Association will no longer serve as your guarantor.
*Please, be sure to always pay your rent on time. If you get behind on your rent or neglect the rules for putting out your garbage, the International Student Support Association will stop serving as your guarantor.