Career Information
Enter society from NITech
International students who graduated from NITech are playing a broad, active role in international society, going on to higher education, finding jobs in Japan, and finding jobs overseas, including in their home country.
In cases where they hope to find a job in Japan, they are required to have the Japanese language skills necessary to work in Japanese society, and to start job hunting just as Japanese students do.
At the NITech Education Center for International Students (http://www.ic.nitech.ac.jp/), they can learn Japanese with a broad range of courses, from elementary courses, to advanced and business courses.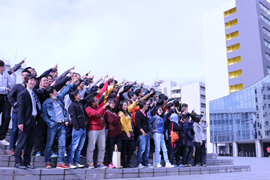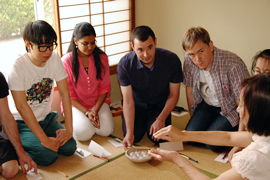 Career support
Placement Office
Consultations for job hunting are given during the prescribed period with our institute's exclusive and experienced counselors with specialized knowledge on company and other information, as well as external careers counselors (only during the job hunting season).
* Individual 30 minute consultations are provided, which require advance booking in principle.
Job-hunting and Career Support Office, Window No. 10 of the Education Center for International Students Weekdays: 8:40 - 17:10
Job-offer data for our institute's students are available as part of the job offer slip viewing system. The system is updated whenever a new job offer slip is received from a company. Instructions on how to fill out the Entry Sheet are also provided.
Guidebooks for Finding a Job and Career Creation (Japanese) are available.
Events related to job placement
Job Placement Guidance (about 15 times annually)
Guidance for industry research, company research, and job-hunting activities by senior students is provided, in which students can listen to senior students in society and specialists in various fields, and make a career decision before beginning their job-hunting activities.
Mini-Seminar on Job Placement (as required)
Study sessions for simulation interviews, the entry sheet, and how to write a C.V. (curriculum vitae) are held in order to supplement the Job Placement Guidance.
Company Research Seminar (held in early March)
This is a job placement seminar targeting students of Nagoya Institute of Technology only, attracting about 360 companies. Naturally, many companies looking to hire international students attend the seminar.
Global Career Meeting (Usually held annually in December; the timing of the next meeting is still undecided.)
This meeting provides an opportunity for students considering a global career to directly talk to persons in charge of personnel affairs at companies. Approximately 30 companies attend the meeting.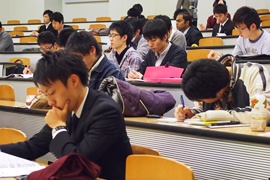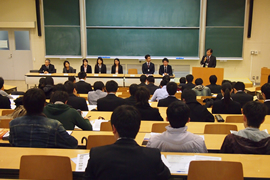 Global Career Meeting
Internship
1) General Internship System
This system has been in place since 2007 as an original effort of our institute. Each company supporting this program has established a special quota for our institute's students when accepting internships, as well as an internship program specially for our institute.
2) Tokai Internship Promotion Association (website in Japanese only)
This is a system to support the acceptance of internships by companies and organizations in the Tokai region, as well as to encourage students' participation in internships from that region.