Service Centers
Center for Social Contribution and Collaboration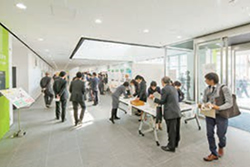 This center's mission is to promote and strengthen our industry-academia-government collaboration strategy. The center is organized into two divisions: Planning and Administrative Division, and Intellectual Property Utilization Division. The latter has functions such as technology transfer support and practical liaison activities.
As a core organization for promoting NITech's industry-academia-government collaboration project, we aim to enhance the functions of our one-stop service, and facilitate further coordination with industry.
Center for Research and Development in Higher Engineering Education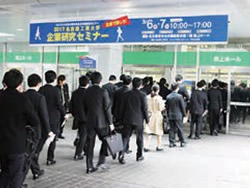 It was established in April 2005 to support the engineering-education system of NITech. The Center consists of three Offices: "Admission Research Office", "Educational Research and Development Office," "Career Support Office."
Education Center for International Students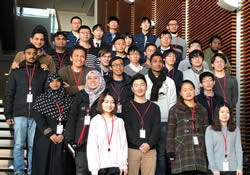 This center provides international students with a wide range of educational activities and programs, such as Japanese language courses and support for the studies and lives of international students.
Information Technology Center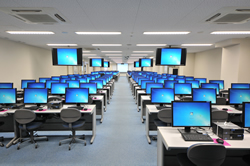 This center operates and manages NITech's computer systems, including the Meikoudai Advanced Information Network System (MAINS). Its objective is to contribute to the advancement of education and research and to NITech's relationship with the local community by providing information systems and support in education, research, academic repository services as well as in other administrative fields.
Instrument and Research Technology Center (IRC)
This center was established in April 2007 after the merger of the Techno-Innovation Center and Instrument and Analysis Center in the Advanced Instrument and Analysis Division. The new center's missions are to plan, design and manage large-size instruments for research and education, and to promote their use both on this campus and in the general community, in addition to research and development on instrumental analysis.
Risk Management Center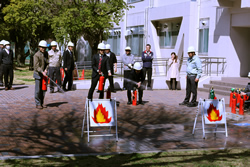 In the event of an emergency or natural disaster, NITech's Risk Management Center is prepared to act promptly to maintain essential functions of the university; to protect the lives of students, faculty and staff; and to preserve the property and honor of NITech. The Risk Management Center handles emergencies and implements any required crisis management actions during times of normal operations. The center consists of two sections: the Disaster Prevention Section, and Legal Risk Section.
The main functions of the Disaster Prevention Section are (1) to prepare disaster prevention procedures and plan countermeasures; (2) maintain the health and safety of NITech students, faculty, and staff; (3) educate NITech students, faculty, and staff concerning disaster prevention; and (4) take countermeasures and contain damage in the event of an emergency.
The main functions of the Legal Risk Section are to (1) establish measures to prevent the occurrence of legal incidents; (2) take countermeasures if a legal incident occurs and prevent its recurrence; and (3) provide media relations during emergencies.
Center for Innovative Young Researchers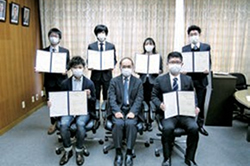 The center was established in 2009 based on the "Program to Train Innovative Young Researchers by Industry-Academia-Government Collaboration" financed by the Ministry of Education, Culture, Sports, Science and Technology, with a view to assisting innovative young researcher to make the interdisciplinary and integrated research at the internationally recognized level and to contribute to emerging disciplines. The center now takes charge of evaluating the young researchers based on the "Program to Disseminate Tenure Tracking System" since 2013 and all the newly employed research associates since 2015.

Center for Gender Equality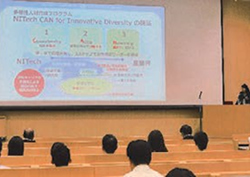 The Center for Gender Equality (CGE) was established in December 2014 to promote diversity and gender equality on campus in order to create a more productive and comfortable academic environment for all members. In order to realize this concept, we are presently committed to conducting varied measures geared toward researchers' life-event related needs.
Health Support Center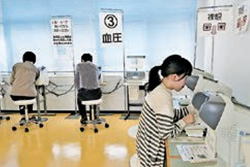 This center deals with the health maintenance of all members of the university. We organize health checkups for all staff and students. Anyone can have a personal consultation with medical doctors, mental counselors, or nurses. First aid is also available.
Creative Engineering Education Center