Master Course
Life Science and Applied Chemistry Program
The objective of this Department is to cultivate professional engineers with advanced knowledge and skills in chemistry as applicable to environmental and energy problems, and other important issues.
Students will acquire knowledge enabling them to understand molecular properties and biological functions, engineer the properties of molecular materials, convert energy, and exchange or transmit information. They will also gain advanced knowledge and skills to develop engineering materials, drug development and biomaterials, environmentally friendly materials, and various functional materials informed by the study of biological functions.
Physical Science and Engineering Program
The objective of this Department is to cultivate materials professional engineers who can create innovative and functional devices, which contribute to the solution of environmental and energy problems.
The focus is to acquire cutting-edge knowledge and skills of material structure analysis and electronic structure control by elucidating important elementary processes at the atomic and/or molecular level. Accordingly, students will develop advanced simulation analysis techniques, material property assessment techniques using nano-scale measurements, and functional control techniques.
Electrical and Mechanical Engineering Program
The objective of this Department is to contribute to enriching our lifestyles through our advanced education and research, enhancing the further
development of industrial and science technologies. Our program also aims at developing engineers who can contribute to technological innovation based on the fundamentals of Electrical and Electronic Engineering and Mechanical Engineering and cooperation between them.
Computer Science Program
The objective of this Department is to cultivate professional engineers who can leverage their advanced knowledge and skills in computer science and engineering to help create next-generation information systems and establish an advanced information society. Accordingly, students will
acquire fundamental knowledge and skills related to advanced-function computing, network technology, computation theory, and mathematics, and gain advanced knowledge and skills essential for next-generation information systems.
Architecture, Civil Engineering and Industrial Management Engineering Program
This department fosters leaders who can contribute to the creation of a sustainable society interdisciplinary fields, through advanced education and new and research aimed at solving problems concerning architecture and design, civil and environmental engineering, and systems management and engineering.
Creative Engineering Program
The Creative Engineering Program was newly established in 2016 in order to train engineers and researchers who will change future industry and society through technology. This program serves as a six-year integrated undergraduate and graduate course, with a cross-sectorial curriculum covering the entire field of engineering, and various practical classes such as "Laboratory Rotation". Through these studies, students are expected to become comprehensive engineers with a knowledge of engineering in a wide range of fields.
Innovation Program
In this program, people already in employment will address issues as graduate students that they have faced in their workplace. The students will work to resolve these issues as their research themes, under the guidance of faculty members. This program is geared to students who have full-time jobs, to nurture human resources who can design solutions directly connected to their work, through class and research activities, and through discussions not only and with academic advisers, but also with other students faculty members in various fields.
Doctroral Course
Department of Engineering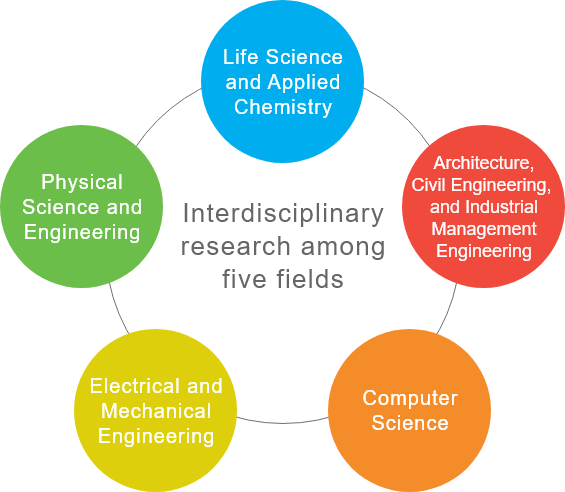 As Japanese industry circles find themselves in an increasingly harsh situation, the fields of science and technology in particular need engineers who are capable of flexibly responding to various changes beyond the boundaries of their specialized fields; this has generated demand for the establishment of an education and research system for nurturing such engineers. In doctoral courses of Nagoya Institute of Technology, we have integrated five former departments into a single Department of Engineering so as to be able to provide research guidance without being constrained by the boundaries of one's area of expertise. This newly structured department deals with extensive education and research fields, covering the whole range of engineering disciplines and including the five fields mentioned on the left figure , which we have built up to date. Based on these fields, or rather in an interdisciplinary, integrated manner across them, we will pursue education and research designed to address and solve diverse global and local challenges faced by the industrial and other communities.
For details on each of the five fields, please refer to the master course program in the same area of study as that of the relevant field.
Nanopharmaceutical Sciences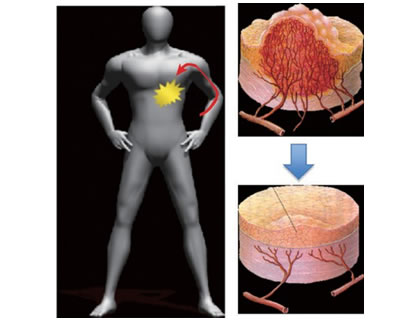 The Department of Nanopharmaceutical Sciences was established in cooperation with the Graduate School of Engineering Technology and the Graduate School of Pharmacy at the Nagoya Institute of at Nagoya City University. This Department has three Divisions: Division for the Synthesis of Functional Medicine (fine organic synthesis and drug biotechnology); Division of Drug Delivery (science of delivery, science of drug dynamics, and protein Medicine engineering); and Division of Nanoengineering for(nanobioengineering biomechanics, and nanoimaging). Graduate students in this department study engineering and pharmacy on an equal basis,and will become core researchers and engineers in various fields of research and development, such as new drugs, functional foods, and cosmetics.
Nagoya Institute of Technology and University of Wollongong Joint Degree Doctoral Program in Informatics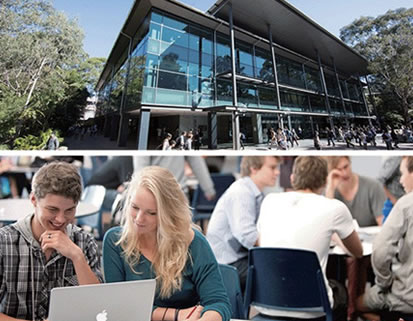 The Joint Degree Doctoral Program in Informatics is a joint doctoral degree program between the Nagoya Institute of Technology and the University of Wollongong in Australia, which was established in March 2018. Students who graduate from the program are awarded a joint degree from both institutions. The program is designed to turn out researchers who can create super smart societies, contribute to the fourth industrial revolution, and within lead the world in pioneering new areas of study the field of informatics. Our aim is to develop as global practical researchers and engineers who will serve leaders, paving the way for new projects at multinational companies, particularly IT firms developing a worldwide presence.
---