Message from the President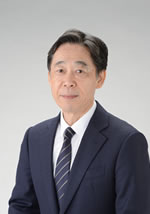 Hiroyuki Ukai
President,
Nagoya Institute of Technology

— Embarking on a New Role on the Global Stage based on Tradition —
Nagoya Institute of Technology (NITech) has been growing as one of the leading engineering colleges in Japan, along with the remarkable development in science and technology fueled by the expansion and development of Japan's central region. To realize further evolution in defiance of turbulent social circumstances, NITech has launched initiatives to achieve its the Third Targets and Plans, in order to carry out the University Reform Action Plan toward "Embarking on a New Role on the Global Stage based on Tradition." At the beginning of the new academic year, I would like to comment on the initiatives and objectives of NITech.
Educational Objective—Nurturing a Practical Engineering Elite
NITech aims to provide education that fosters lofty aspirations to shape a better future with science and technology. To this end, NITech nurtures human resources who have the wisdom to understand the development of history, culture and society from a global perspective, and who have the ability to put scientific and technological skills into practical application to help create a new society. In April 2016, we inaugurated new departments, so as to establish an educational system that can fulfill the needs of society and the industrial community for the development of capable human resources, while also being fully consistent with the existing academic framework. The Creative Engineering Program, a new six-year integrated undergraduate and graduate course, aims to nurture engineers and researchers who have multidisciplinary perspectives and a new sense of values regarding science and technology and who can utilize these assets to create innovation in future society and industries by using engineering technologies.
In the context of society's ever-intensifying globalization, there is increasing demand from society and the industrial community to develop human resources who can play active roles in the international arena. To meet these demands, we will strengthen our global education by reinforcing our programs to help students improve their foreign language abilities, as well as our study-abroad and overseas internship programs.
Going forward, NITech will redouble its efforts to be the front-runner in engineering education.
Research Objective—Establishing an Engineering Innovation Hub
NITech aims for research that contributes to peace and well-being in the world through engineering. Toward this objective, we are striving to establish a research hub that can design new values in our cutting-edge, original research activities in various engineering fields (that make NITech a "treasure trove of technologies") so as to create innovation, and then disseminate the results to the world. Based on this research policy, last year we set up the Frontier Research Institute for Materials Science and the Frontier Research Institute for Information Science. NITech is promoting activities to ensure that its research units will function as international research hubs, with these two centers playing a pivotal role. More specifically, each research unit proactively recruits faculty members from renowned universities in overseas countries as well as business personnel from companies in Japan. By applying the achievements of these units to other research disciplines, NITech will organically integrate its institute-wide research system. In doing so, we seek to create a driving force for innovation in such fields as energy, life and intelligent technologies, and to develop globally competent human resources. Furthermore, we have commenced the Overseas Research Fellowship Program for Young Researchers, designed to help enhance research and education capabilities of young faculty members by offering them opportunities to study abroad for one year, apart from their main duties. We are confident that this scheme will greatly contribute to international development of our institute's research capabilities in the future.
NITech has been steadfast to its traditional philosophy—Striving to identify practical issues to be addressed in the industrial community and general society, pursue these issues as practical research themes and make them subjects for in-depth academic exploration, and utilize the research results for practical education. This is well reflected in the fact that our track record in industry-academia-government collaboration has always been rated highest in Japan. Recently the trend in the industrial structure has shifted toward knowledge-based industries, and the industrial world has seen widespread adoption of management alliance strategies. In response to these changes, universities are expected more than ever before to collaborate with industries and governments. To live up to these increasing expectations, NITech strives to establish a collaboration system and venues for co-creation, aiming at creating innovation. We set up the Industry-Academia-Government Exchange Plaza on the first floor of building No. 4, which was completed last year. This plaza serves as a venue to promote exchange and strengthen collaboration among industry, academia, and government by attracting administrative agencies and the like. The Industry-Academia Joint Research Course/Division established on the eighth floor of the same building is a place where businesses can conduct independent research activities taking advantage of the educational and research resources of NITech. Also, last year we commenced in earnest the Program to Promote Mutual Learning between Industry, Academia and Government, tailored for small and medium-size enterprises in the region. This is our original, hands-on educational program that will benefit both our institute and businesses. For NITech, this program will pave the way for social implementation of education and industry-academia joint research projects under which it can cultivate students' practical abilities. For businesses, they can expect that this program will result in the creation of new technologies, which will lead to the development of new products. Furthermore, with cooperation from financial circles, we have started offering the Course for Nurturing Creative Entrepreneurs, through collaboration between industry, academia, government and finance, to inspire top management of middle-ranked companies as well as small and medium-size enterprises.
NITech seeks to create a global research hub in specific fields by strategically and systematically helping strengthen research activities. At the same time, it will offer a venue and opportunity for "mutual learning" in terms of education and personnel exchange, and for "close interchange" of different views on the research front, thereby contributing to the development of the local communities and the industrial world in the region.
Objective of Campus Development—Creating an Internationally Diverse Environment
Aiming to create a campus at which diverse people work together in harmony, NITech promotes the development of an internationally diverse environment. In keeping with this policy, we strive to advance campus internationalization inside and outside NITech. Chief among our efforts are improving educational programs and support systems intended to attract more international students, inviting research units of foreign faculty members, and augmenting international exchange facilities through effective use of overseas offices and alumni associations. NITech is also vigorous in promoting gender equality. Specifically, institute-wide efforts are under way to expand the support system for female researchers and increase the ratio of female students. Optimally utilizing the power of women will enable NITech to further boost its vitality. Moreover, we work to encourage interchange with business personnel by enhancing internship programs as well as programs for working adults that let them learn together with other students. To maximize the potential capabilities of individual students, we will actively provide direct support and consultation to students in regard to their extracurricular activities, job hunting, and everyday life. In conjunction with these activities, NITech is intensifying its efforts to create a campus that enables students to develop themselves through exchange with diverse people.
One of the traditional elements that we have inherited is the academic atmosphere unique to NITech. This atmosphere has been sustained by the alumni relationship maintained across generations. With the completion of a new auditorium at NITech slated for autumn this year, we are planning to organize a commemorative event on the occasion of the Homecoming Day.
Now society is about to undergo a significant transformation. It is time for NITech to cherish and strengthen its traditions and achievements, and to make its presence better felt in the international community as a distinguished player in the forward-looking engineering field. The mission of our institute is to conduct education and research with pride and sincerity, in order to contribute to society.
NITech will remain committed to reforming itself by sharing common awareness not only with our faculty and staff members, but also with our students, alumni, business persons, and residents of local communities.
Biography