"NITech Cosmo Village" seeks residents
Publishing : February 21, 2018
---
"NITech Cosmo Village" will be completed at the end of March 2018. (1st stage of construction completed)
There are openings for 88 residents in April 2018.
(2nd stage of construction is scheduled for completion at end of September 2018, at which time occupancy will increase by 120.
By October, "NITech Cosmo Village" will have a total occupancy of 208 people using all rooms.)
Applicants will have priority to enter NITech Cosmo Village in October.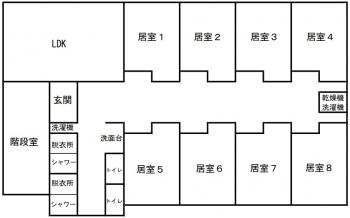 NITech Cosmo Village features share-type rooms in which 8 international students and Japanese students live together in one unit, which contains 8 individual rooms. It is anticipated that this will become an iconic facility for the future of Nagoya Institute of Technology by fostering global human resources, and promoting campus globalization and diversity.

Rent (monthly): ¥30,000 (Withdrawal fees will be charged separately.)
Deposit: ¥15,000 (One-time payment on moving in. Charged at time of first rent payment. The deposit is non-refundable, and will be used for cleaning fees, etc., when resident moves out of dorm.)
Utilities (monthly): Electricity charges for individual rooms will be charged separately for each resident's usage amounts. Electricity, water, and gas charges for the common areas (toilet, shower room, living and dining area, etc.) also will be charged based on calculation of totaling all costs and dividing them by the number of dorm residents.
"NITech Cosmo Village" has prepared the following items to ensure that all residents can enjoy a fulfilling and safe university life.
* All rooms are equipped with an air conditioner, bed and mattress, desk and chair, curtains and lace curtains.