Request for donation for Nepal Earthquake
Category:News|Publishing : May 19, 2015
---
NITech Volunteers Club is raising money for Nepal Earthquake responses.
The donations will be used for victims through a NGO SEES Asia that has been conducting activities in Asia Pcific region with the following key words: Human Security; DRR (Disaster Risk Reduction) and development; Environment management; and community-based DRR.
Your hearty supports would be greatly appreciated.

・Donation Box at NITech Campus
Date: from 19 May (Tue) to 25 May 2015 (Mon)
Place: International Student Affairs Office the 7th window 19th Building 1st Floor  9:30-17:00
     Evening Course Office 19th Building 1st Floor  17:00-18:00

・Members of NITech Volunteers Club and NITIA (Nagoya Institute of Technology International Association)
are making direct appeal to passengers
Date: from 19 May (Tue) to 25 May (Mon) 2015
Time: 8:30-9:30 at Front Gate
11:45-13:30 at Front Gate and the University Hall
17:30-18:30 Front Gate

Nagoya Institute of Technology Volunteer Club has been established since the Great East Japan Earthquake and continuously supports disaster victims through activities of Aichi Prefecture Disaster Victim Support Center and Non-Profit Organization Rescue Stock Yard.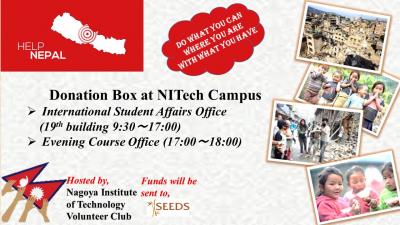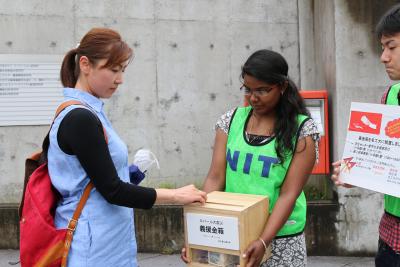 ---