An Italian conductor Lerenzo Tazzieri will give the NITech orchestra lessons open to the public
Category:Event|Publishing : May 20, 2015
---
An Italian conductor Lerenzo Tazzieri will give the NITech orchestra lessons open to the public.

The 1st lesson
Date & Time: 7 June (Sunday) 15:00-17:00 Place: 12nd Building 2nd Floor
The 2nd lesson
Date & Time: 13 June (Saturday) 15:00-17:00 Palce:12nd Building 2nd Floor
For both days, we welcome all visitors.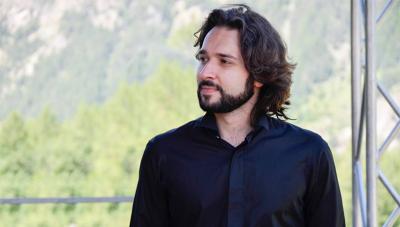 Lorenzo Tazzieri's Biography:
Born in Genoa in November 1985, Lorenzo Tazzieri began to study violin when he was only six years old. Inspired and motivated by his passion for music, he continued his education at the Conservatory Niccolò Paganini where he studied violin and then, piano, his main instrument, under the guidance of Maestro G. Carlascio.
From 2002-2006, he took the course of piano improvement in Russian repertoire with Elena Nathanson, teacher of the Pyotr Ilyich Tchaikovsky Conservatory in Moscow. He deepened the study of chamber music with Maestro Massimiliano Damerini one of the most distinguished performers on the international scene of contemporary and chamber music.
In 2003, at the age of 18, Mr. Tazzieri founded the Cultural Association Belvedere and became the principal conductor.
Since 2005, Tazzieri's orchestra and choir began to succeed in the national and international festival circuit with a repertoire ranging from baroque to contemporary.
Under the guidance of Maestro Roberto Tolomelli, Mr. Tazzieri began his conducting studies, and from 2007 assumed the role of his assistant, collaborating with Tolomelli to stage numerous concerts, works and ballet. These collaborations include: Nabucco in the Theater Wielki in Warsaw, Aida in the summer season of the Giardino di Boboli in Florence, Norma in the Theater Campoamor of Oviedo, Bellisario in the Theater Donizetti in Bergamo, Cinderella in the Theater Massimo of Palermo, Raymonda in the Opera House in Rome, Don Carlos in the Theater Wielki of Poznan, Madam Butterfly for the Summer lyric Season in Lecce and Cinderella for the season organized by the Luglio Musicale Trapanese.
---