November 21, Homecoming Day will be held.
Category:Event|Publishing : September 28, 2015
---
Nagoya Institute of Technology (NITech) will hold the 1st Homecoming Day on 21 November (Saturday).
All alumni and their families are welcome to NITech campus.

Program
10:00-11:00 1st group of Campus tour
11:00-12:00 2nd group of Campus tour
12:00-13:00 3rd group of Campus tour
Campus tour will include visiting Instrument and Research Technology Center, Library and Koyukaikan (Alumni Hall).
★ Advance registration is required for the campus tours. Please mention your first, second and third choice.
Each group can accommodate 30 people. All tours are charge-free.

11:30- 13:00 Lunch time



You can enjoy revival menus such as jumbo-size Japanese curry, spaghetti Bolognese in the 1990s and combination meals in the 1960s.

 
13:00-14:30 Welcome reception at the 4th Building
Charge-free) Advance registration is required.
Speech of Dr. Hiroyuki Ukai, President of Nagoya Institute of Technology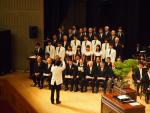 Speech of Mr. Toshio Mizushima, Chairperson of Nagoya Kogyokai (alumni association)
Commemorative lecture of Mr. Hajime Takai, Announcer of Tokai Television Broadcasting., Ltd (Specially Appointed Professor of Nagoya Institute of Technology).
Sing the school song with the NITech choir
 
15:00-16:30 Party at the University Hall
Advance registration is required.
(Fee: advance registration: JPY2,000, current day: JPY3,000, child under 12 years old: Free)

Open laboratories will be available.
OpenLabo.pdf
For registration and inquiries, please contact International Affairs Office.
e-mail: kokusai (at) adm.nitech.ac.jp
Registration deadline : 18 November (Wednesday)
---