Mr. Daichi Yamauchi has been selected as a finalist for ICCAS 2015 Student Best Paper Award
Category:Award|Publishing : October 26, 2015
---
Mr. Daichi Yamauchi, Department of Engineering Physics, Electronics and Mechanics (Yoshifumi Morita Laboratory) has been selected as a finalist for ICCAS 2015 (15th International Conference on Control, Automation, and Systems) Student Best Paper Award.

ICCAS is an international conference on Control, Automation and Systems has been annualy held in Republic of Korea since 2001. ICCAS 2015 Student Best Paper Award is evaluated on technical contribution and presentation quality and 10 students are selected as finalists by thesis review, then 5 students were selected by presentation for award winning.

Mr. Daichi Yamauchi's research content:
The final goal is to develop supporting tools for treatment planning with android model. The purpose of this paper was to analyze knee joint movement experimentally using an android model. We prepared the knee android model consisting of the femur, the tibia, and the ligaments. We compared the internal-external rotation and the anterior-posterior tibial translation of the knee android model with those of the human. As a result, we found that the internal-external rotation of the knee android model was similar to that of the human, and that this motion is caused by the shape of the articular surfaces and the ligaments.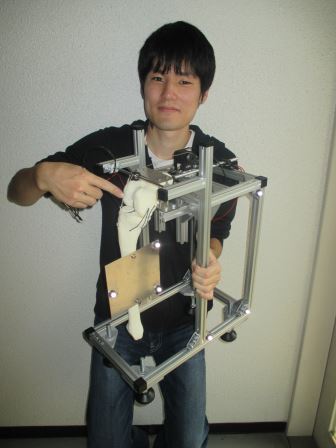 ---