Educational Research Centers
NITech Artificial Intelligence Research Center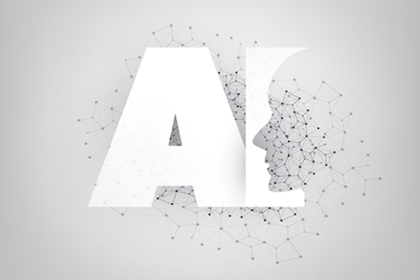 The NITech AI Research Center contributes toward the development of society and industry as an "Innovation Hub" based on realistic AI technologies. Through tight collaboration with related engineering areas in NITech, we provide realistic solutions to issues and problems in society and industry. The NITech AI Research Center pursues the following four missions: (1) Pursue advanced and innovative intelligent computing technologies; (2) Contribute to industries and regional society with wide-ranging outputs; (3) Engage in global activities in academia and industry; and (4) Provide education in AI technologies. To this end, the NITech AI Research Center founded its Advanced Intelligent Computing Research Division, Data Science Division, Information Technology Division, and Society Cooperative Research Division. In particular, the NITech AI Research Center has strongly committed itself to strengthening Japanese industry and academia by playing the central role at IJCAI 2020 (International Joint Conference on Artificial Intelligence 2020) to be held in Japan, 2020.
Advanced Manufacturing Research Center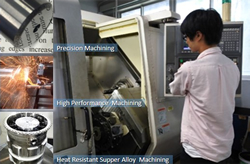 This Center was established to provide a co-creation space centered on the open innovation platform, where universities and many companies participate, for proposal and development of advanced manufacturing systems (global needs) and for development of advanced elemental technologies (advanced seeds of universities). We aim to make a Center that can be an innovation hub to foster collaborations between universities, regions, and industries, and to promote such research and development.
NITech Frontier Research Institutes
The NITech Frontier Research Institutes for Materials Science and Information Science, based on our research activities, has been organized to foster new global leaders. The objectives of the institutes are to create innovations in the fields of energy, healthcare and computer-related technology through international joint researches, and to promote advanced engineering education through the integration of research and education, for developing industries and communities.
The Frontier Research Institute for Materials Science focuses on green, energy and healthcare researches, while the Frontier Research Institute for Information Science focuses on life support and social computing researches.
Quality Innovation Techno-Center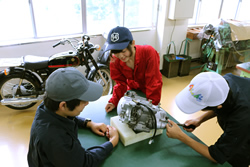 This center was established by a ministerial ordinance in April 2002 in order to provide advanced practical education on quality innovation not only for students but also those with regular jobs, and to carry out research and development on an education system promoting quality innovation. Its mission is to have young people develop their dreams, ambitions, with adventurous and challenging spirits toward quality innovation in the 21st century by offering the place and environment for technical education based on intra- and extramural practice.
Advanced Ceramics Research Center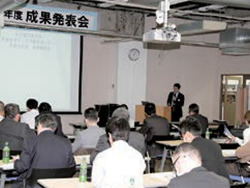 Their mission is to research fundamental materials science and develop advanced materials to develop solutions of environmental, resource and energy problems in the 21st century. The Ceramics Research Laboratory (CRL) was established in 1973 and moved to Tajimi City in 1977. This eastern Gifu area has a long history in the pottery products industry. The CRL had long supported the industrial research of many companies in this local area. In 2012, the CRL was reorganized as the Advanced Ceramics Research Center (ACRC) for the purpose of developing intelligent materials based on ceramics. Since then it has contributed to materials science as well as academic education for research engineers worldwide. Recently, some national projects and collaborative efforts with other organizations and companies have led to excellent academic and technological works in the field of ceramics and related materials.
Research Center for Nano Devices and Advanced Materials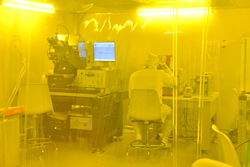 This center was established on April 1, 2003, after a ten-year project was completed on March 31, 2003 at the previous Research Center for Micro-Structure Devices. The new center's mission is to conduct research on the physical properties of materials with micro-structure (nano-structure) and their application to electronic and photonic devices, taking over the research works "Heteroepitaxial Crystal of Micro-Structures," "Material Characterization," and "Device Fabrication and Its Characterization" being studied at the previous research center.
Innovation Center for Multi-Business of Nitride Semiconductors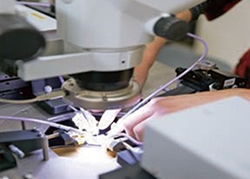 This center is established as a hub for developing practical applications of GaN-based power devices with NITech's pioneering crystal growth techniques to fabricate GaN film on Si substrates. The project is expected to further realize miniaturized and energy-saving semiconductors to promote wider usage in home appliances, next-generation automobiles, etc.
Advanced Disaster Prevention Engineering Center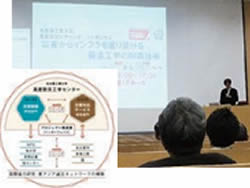 This center's mission is to develop techniques for disaster prevention and mitigation against earthquakes, tsunami, heavy rains and storm surges, together with the technical support needed for establishing management and service systems against natural disasters for urban infrastructure and local autonomy.
Center for Research on Assistive Technology for Building a New Community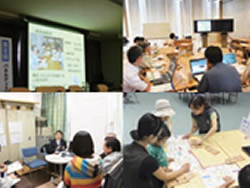 This center's mission is to conduct continuous and comprehensive research on assistive technologies for building a new community in the 21st century in Japan, which will be known as a "society of the aged"—a new community in which people of all generations can cooperate with each other and live happily, through the union of engineering, humanities, and social sciences.
OptoBioTechnology Research Center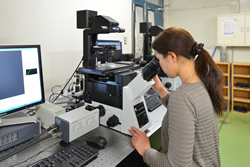 Their mission is to contribute to our communities by creating a new field of industry based on an engineering approach in the life sciences engaged in reactions to light. By better understanding the physics of light, and in manufacturing bio-inspired new materials, we aim to improve people's quality of life related to health.
Center of Biomedical Physics and Information Technology
This center brings novel solutions and ideas to the forefront for problems in public health, medical care, and product design by combining experiment, computational science, and data science in the fields of biomedical physics and information technology. The goal is to foster individuals with multifaceted and creative thinking by founding a new research field in collaboration with leading research centers in Japan and overseas.
Service Centers