NITech Solar Car runs from Darwin to Adelaide in Australia at the Bridgestone World Solar Challenge.
Category:News|Publishing : October 16, 2015
---

NITech Solarcar Club joins the Bridgestone World Solar Challenge for the first time, held in Australia at October 18-25, 2015. The solar car runs some 3,000 km across the desert from Darwin to Adelaide.
NITech team consists of nine students of Solarcar Club and supportive members such as three students from English Speaking Society, Dr Hato at Ashiya Univ, Mr Jonokuchi at IMRA America, Inc. and Mr Yamada at Goko High School.
The solar car 'Horizon Z' is supported by Mitsubishi Rayon Co., Ltd, SolidWorks Japan KK, Nagoya Hatsujo Kogyo Co., Ltd, Inoue MFG., Inc, and Tan-ei-sya wheel supply.
Bridgestone corporate website <World Solar Challenge>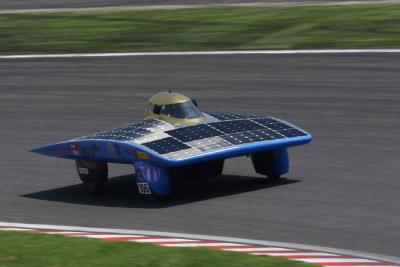 Horizon Z
---