Mr. Takeshi Mori receives Student Paper Competition Award of 2015 IEEE International Ultrasonics Symposium
Category:Award|Publishing : November 11, 2015
---
Mr. Takeshi Mori, Engineering Physics, Electronics and Mechanics of Graduate School of Engineering (Ichinose Laboratory) receives Student Paper Competition Award of 2015 IEEE International Ultrasonics held in Taiwan on Oct-21-24, 2015.
The title of his thesis is "High order mode polarity inverted Al-polar (0001) ScAlN/O-polar (000-1) ZnO film resonator".
Polarity inverted multilayered resonators are attractive for high order mode excitation and high power operation. Previously, we reported the control of the polarity in ScAlN and ZnO films by ion beam irradiation during film growth, and we found that the usual ScAlN and ZnO films grown by a conventional sputtering possess (0001) Al-polarity and (000-1) O-polarity, respectively. In this study, we considered that the polarity inverted (0001)/(000-1) multi-layer can be easily obtained by depositing usual Al-polar (0001)ScAlN film on usual O-polar (000-1) ZnO film.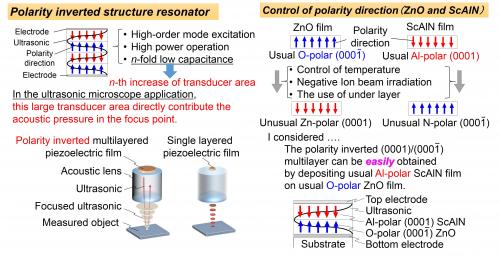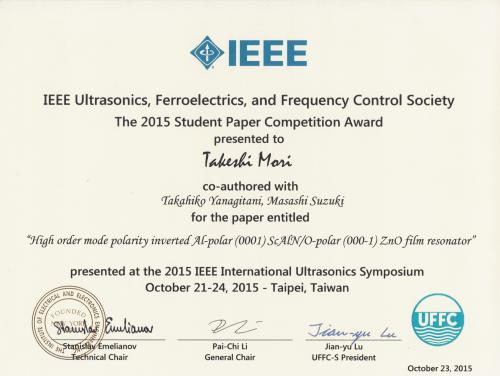 ---