Ms. Mayuri Terakado receives the Best Paper Award of The 3rd Asian SME Conference and Meeting
Category:Award|Publishing : November 10, 2015
---
Ms. Mayuri Yamada, Techo-Business Administration of Graduate School of Engineering( (Ken Nishina Laboratory) receives the Best Paper Award of The 3rd Asian SME Conference and Meeting held in Malaysia from 26-30 October, 2015.
The title of her thesis is "A Case Study on a Measure against Food Deserts Issue".
In this study, a measure against "food deserts issue" is addresses through a case study about a food supermarket, which is located in an aging local city of Japan. The supermarket has carried out "mobile supermarket" as a measure. We analyze the purchasing behavior of seniors, who can be regarded as people living in food deserts, from ID-POS data and questionnaire survey and suggest an effective assortment of the mobile supermarkets.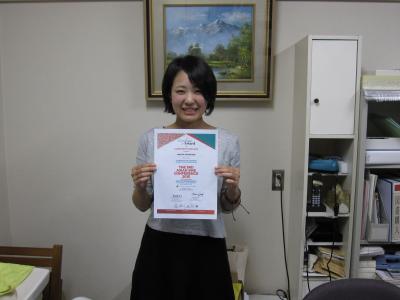 ---