April 25, 2017 FRIIS Seminars #1(Dr. Hiroshi Motoda, Osaka University) and #2(Dr. Mark Klein, MIT)
Category:Event|Publishing : April 12, 2017
---
#1 (Dr. Hiroshi Motoda, Osaka University) Which is More Influential, "Who" or "When" for a User to Rate in Online Review Site?"
When

April 25 13:00 - 14:30

Where

NITech Hall in Nagoya Institute of Technology

For

Graduate students, faculty members, and anyone interested

Reservation

NOT required (free of charge)

Contact info

For inquiries, please contact Takayuki Ito Laboratory.
Tel : 052-735-7968
Mail : contact [at] itolab.nitech.ac.jp
#2 (Dr. Mark Klein, MIT) "New Direction in Crowd Computing"
When

April 25 14:40 - 16:10

Where

NITech Hall in Nagoya Institute of Technology

For

Graduate students, faculty members, and anyone interested

Reservation

NOT required (free of charge)

Contact info

For inquiries, please contact Takayuki Ito Laboratory.
Tel : 052-735-7968
Mail : contact [at] itolab.nitech.ac.jp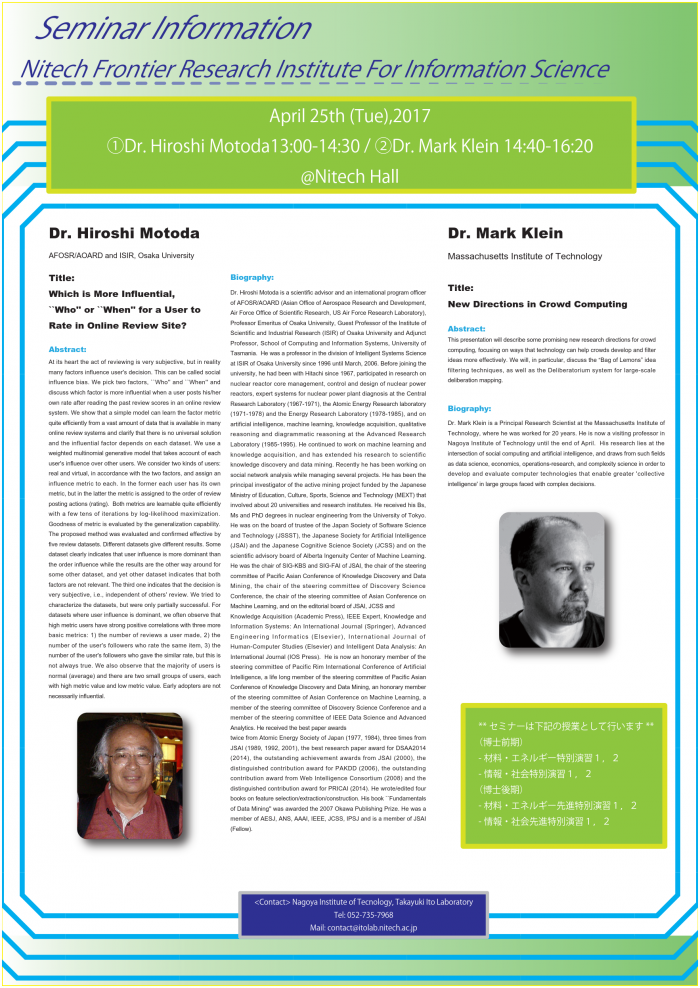 ---