A research paper authored by Shibata Laboratory published in an American Chemical Society journal was selected as "Supplementary Cover Art."
Category:News|Publishing : August 2, 2022
---
A research paper titled "Ethynyl-SF4-Pyridines: Reagents for SF4-Alkynylation to Carbonyl Compounds" authored by Kentaro Iwaki (then Creative Engineering Program, 2nd year of Master's Course), Koki Maruno (then Department of Engineering, 2nd year of Master's Course) et al. at Shibata Laboratory published in the Journal of Organic Chemistry, a scientific journal published by the American Chemical Society (ACS), was highly evaluated and selected as "Supplementary Cover Art" (Fig. 1). The cover was created with the image of alchemy.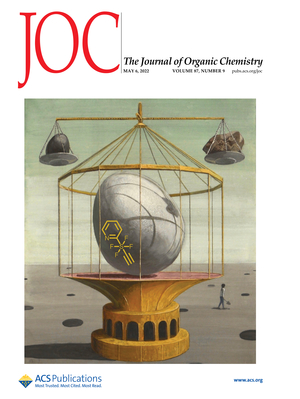 (Figure1)


The following is a description of this highly evaluated research paper. The tetrafluoro-λ6-sulfanyl structure (SF4), in which four fluorine atoms bonded to a hypervalent sulfur atom, has the electronic characteristics of high electron-withdrawing effect and fat solubility due to the fluorine atom, and the structural characteristic of unconjugated linear geometry. Therefore, it is expected to be applied to medical and agrochemical products and functional materials; however, there have been very few reports due to difficulties in synthesis. In this study, Iwaki et al. at Shibata Laboratory succeeded in developing ethynyl-SF4-pyridines having terminal alkynes, and found that they smoothly undergo addition reactions with various carbonyl compounds. Ethynyl-SF4-pyridines are expected to be a powerful tool for the development of materials and drugs with SF4 (Fig. 2).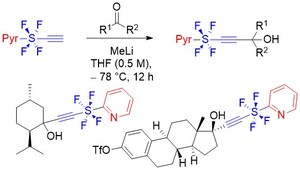 (Figure2)


<Journal containing this article>
 Journal name:The Journal of Organic Chemistry.
 Title: Ethynyl-SF4-Pyridines: Reagents for SF4-Alkynylation to Carbonyl Compounds
 Authors:Kentaro Iwaki, Koki Maruno, Osamu Nagata, and Norio Shibata
 Article information:DOI: 10.1021/acs.joc.2c00564
Website containing the published article

Website with information on the award
---