A research paper authored by Shibata Laboratory published in an American Chemical Society journal was selected as "Supplementary Cover Art."
Category:News|Publishing : August 22, 2022
---
A research paper titled "Etherification of Fluoroarenes with Alkoxyboronic Acid Pinacol Esters via C-F Bond Cleavage" authored by Shibata Laboratory (Jun Zhou (postdoctoral fellow), Bingyao Jiang (then Life Science and Applied Chemistry Program, 2nd year of Master's Course) and Zhengyu Zhao (Department of Nanopharmaceutical Sciences, 2nd year of Doctor's Course) published in Organic Letters, a scientific journal published by the American Chemical Society (ACS), was highly evaluated and selected as "Supplementary Cover Art" of Organic Letters Vol. 24, No. 28 (published on July 22) (Fig. 1).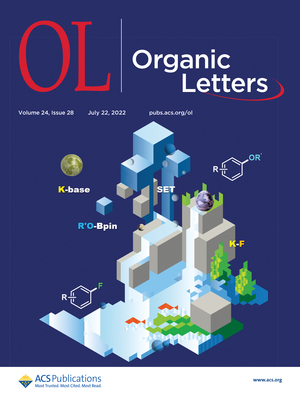 (Figure1)
The following is a description of this highly evaluated research paper. Potassium-base-mediated defluoroetherification of aryl and heteroaryl fluorides with alkoxyboronic acid pinacol esters was successfully induced for the first time under transition metal-free conditions. This protocol efficiently and safely can chemically convert aromatic fluorides into a wide variety of aryl ethers without using metal catalysts, specific ligands, etc., which have been traditionally indispensable. Using this protocol, corresponding ether compounds were able to be selectively synthesized from structurally complex fluorine compounds and fluorine-containing bioactive substances, such as β-estradiol and tocopherol (Fig. 2).



 (Figure 2)
The cover (Fig. 1) was designed by a Japanese artist and is titled "Moon, Water and Nature." It represents the transition of organic fluorides to non-fluorinated and oxygenated molecules due to the spontaneous release of inorganic fluorides mediated by the moon. This research was supported by Precise Material Science for Degradation and Stability (Research supervisor: Atsushi Takahara), CREST Program of JST (Grant No.: JPMJCR21L1).


<Journal containing this article>
 Journal name: Organic Letters
 Title: Etherification of Fluoroarenes with Alkoxyboronic Acid Pinacol Esters via C-F Bond Cleavage
 Authors: Jun Zhou, Bingyao Jiang, Zhengyu Zhao, and Norio Shibata
 Article information: DOI: 10.1021/acs.orglett.2c01864
Website containing the published article

Website with information on the award
---