Professor Yoshihiro Tanaka has been selected as the InaRIS Fellow for 2023
Category:News|Publishing : April 28, 2023
---
To mark its 35th anniversary in 2019, the Inamori Foundation launched a new research grant program, "Inamori Research Institute for Science (InaRIS) Fellowship Program," which differs greatly in concept from that of the Inamori Research Grants, which the Foundation has been providing. InaRIS Fellowship Program is a program that selects young researchers who aspire to research with a grand vision and great potential as Fellows, and provides long-term research funding for 10 years. Professor Yoshihiro Tanaka, Department of Engineering (Electrical and Mechanical Engineering), Graduate School of Engineering, has been selected as the InaRIS Fellow for 2023 in this 4th call for proposals.
Professor Tanaka is working on research centered on the haptic sense.
Haptic sense is the perception of the mechanical interaction between the body and the external world, and depends not only on the object, but also on individual skin properties, motor control, and cognitive processing. The research supported by InaRIS aims to clarify the principles of tactile perception by exploring individual differences in haptic sense based on the interrelationships of factors including those mentioned above and to translate subjective haptic sense into accessible information. Haptic sense involves not only texture, but also physical coordination, body recognition, and emotion, and essential in all situations where the body is involved. The goal of this research is to create the society where diverse sensory worlds within individuals can be shared and utilized and abundant skills and inspiration are cultivated.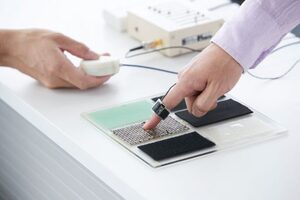 【Related website】
▶ Haptics Lab
▶ Inamori Foundation Website [The Inamori Research Institute for Science (InaRIS) Fellow for 2023 has been selected!]
---