Nagoya University Graduate School of Medicine and Nagoya Institute of Technology Sign a Basic Agreement on Collaboration
Category:News|Publishing : June 7, 2023
---
Nagoya Institute of Technology and Nagoya University Graduate School of Medicine signed a basic agreement on April 3, 2023, in order to utilize the research capabilities and human resources of both parties and strengthen collaboration and cooperation between them.
While both institutes have conducted joint research involving individual researchers, they believe that broader exchanges and cooperation beyond specialized fields are important for the development of safer and more effective new medical technology. The purpose of this agreement is to facilitate joint research, exchanges between researchers, students and related staff, and mutual use of research facilities and resources for promotion of practical science and cocreation, eventually enabling a leap forward and the development of human resources in leading-edge research and development areas through medicine-engineering collaboration.
On April 3, a basic agreement signing ceremony was held, with Nagoya Institute of Technology President Takatoshi Kinoshita and Nagoya University Graduate School of Medicine Dean Hiroshi Kimura signing the basic agreement.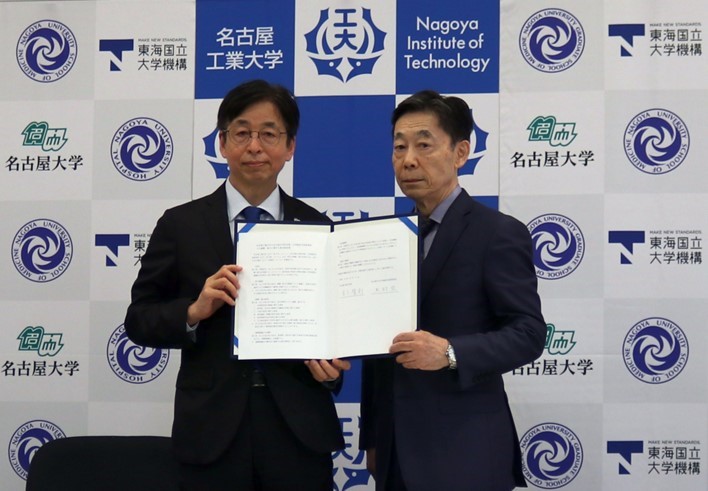 Nagoya Institute of Technology President Takatoshi Kinoshita (right) and Nagoya University Graduate School of Medicine Dean Hiroshi Kimura (left) holding the basic agreement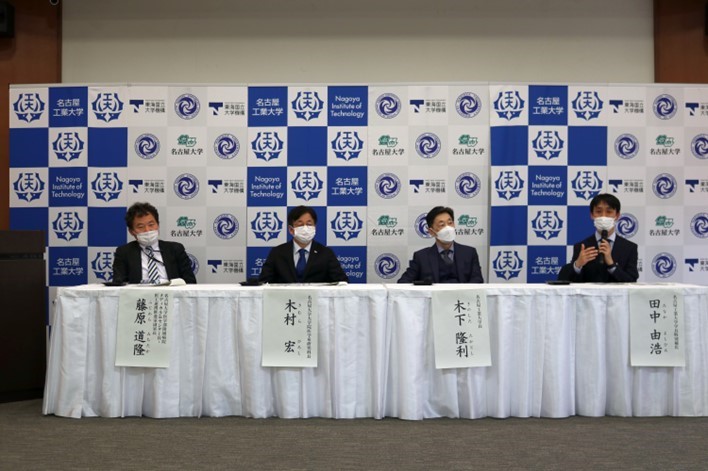 Press conference
---