Mr.Yasutoshi Nishikawa(President & CEO of ORTHORERBIRTH Co. Ltd.)and Professor Toshihiro Kasuga(Nagoya Institute of Technology) received Award for Academic Startups, 2017(JASVE President Prize)
Category:Award|Publishing : September 14, 2017
---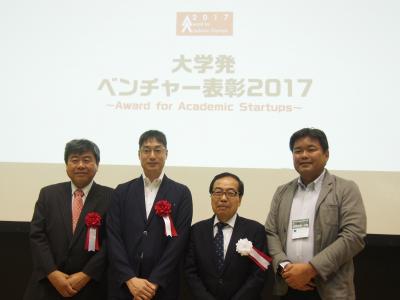 Award winner
Mr.Yasutoshi Nishikawa(President & CEO of ORTHORERBIRTH Co. Ltd.), Professor Toshihiro Kasuga(Nagoya Institute of Technology)
Award for Academic Startups, 2017
JASVE President Prize
Award-winning research:Development of bone-void fillers for use in orthopedic field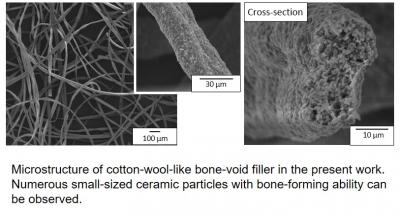 Cotton-wool-like artificial bone (ReBOSSIS®) is a new type of bone-void filler, which is developed/commercialized by a venture company (ORTHOREBIRTH Co. Ltd.), based on the results of fundamental researches by Professor Kasuga of NITech. This material was approved by the US Food and Drug Administration (FDA) in 2014 for manufacture and marketing.
 This filler promotes bone regeneration in the body: it is resorbable in the metabolism of the bone, and eventually it is replaced with the patient's own bone. In comparison with conventional granular-type fillers, it has great advantages in much easier handling and much better shapability. And also, it has good compatibility with blood, and it is suitable for mixing with crushed autologous bone pieces.
Many medical doctors make remarks on its advantages in the easy adjustability of the amount to be implanted and in the excellent fitting ability to any shapes of defect portions. They also report that postoperative observation using X-ray and CT images shows significant bone-forming ability.
Links
---