Mr.Hiroto Uno receives Chemistry Letters Young Poster Award of HALCHEM VIII
Category:Award|Publishing : September 27, 2017
---
Mr.Hiroto Uno,Department of Life Science and Applied Chemistry of Graduate School of Engineering receives Chemistry Letters Young Poster Award of The 8th International Meeting on Halogen Chemistry held in Inuyama,Japan,September 12-15,2017.
Design and Synthesis of Fluoro-1,3-benzodithiole-1,1,3,3-tetraoxy-2-iodide,FBTD-1,for Halogen-bonding Catalysis
This award recognizes outstanding top3 presentations in 38 presentations at international conference"The 8th International Meeting on Halogen Chemistry". We examined the application of "halogen bonding" known as noncovalent interaction to organocatalysis. We succeeded the development of novel strong halogen-bond catalysis, which has fluorine and iodine at the same carbon. We disclosed this halogen-bond catalyst can catalyze not only Mukaiyama-aldol reaction but also 1,2-addition reactions.
Award winner's comments:
I'm honored to be able to win such a great prize in international conference. I would like to thank for Professor Shibata who guided me so far and for everyone in the Shibata laboratory. I continue to challenge my chemistry on a daily basis to contribute to the development of fluorine chemistry and also want to grow myself.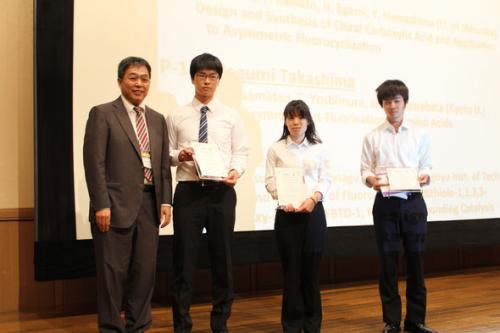 Chemistry Letters Young Poster Award Winner's (Mr.Uno:Second from left)

---