Mr. Hiroki Banno receives Best Poster Presentation Award in The 34th International Japan-Korea Seminar on Ceramics
Category:Award|Publishing : January 22, 2018
---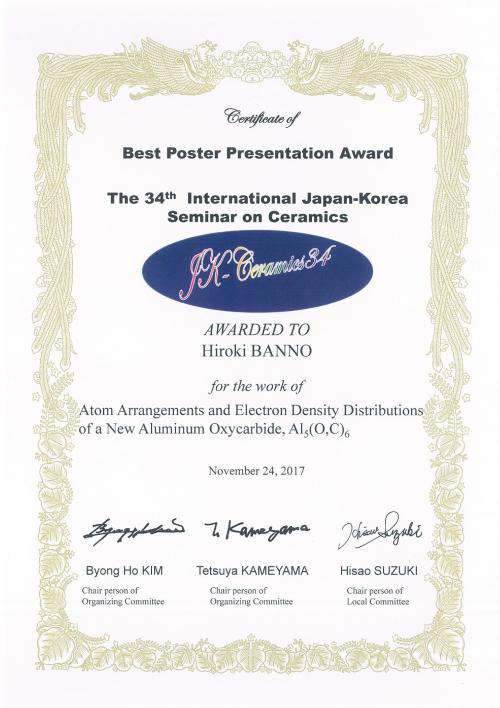 Award winner
Hiroki Banno, Department of Materials Science and Engineering (Fukuda・Asaka Laboratory)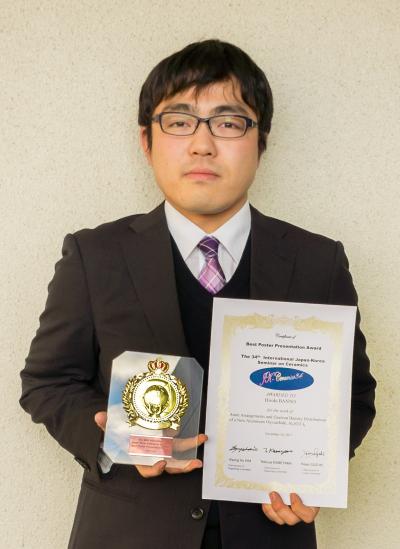 The 34th International Japan-Korea Seminar on Ceramics
Best Poster Presentation Award
We have successfully synthesized the new aluminum oxycarbide, which have been expected to have properties different from conventional oxides and carbides. In addition, X-ray powder diffraction and scanning transmission electron microscope enabled us to detemine the atom arrangement and analyze light elements such as carbon and oxygen.
Award winner's comments:
I am delighted to chosen for this honored award. I am grateful to Prof. Fukuda and Assoc. Prof. Asaka, who gave me great advise. I also appreciate support from my colleagues in the lab. In light of our research results, we plan to develop new functional ceramics.
---