Mr. Shinsaku Maeda receives STUDENT POSTER Bronze Prize Award in IFAAP2018
Category:Award|Publishing : July 4, 2018
---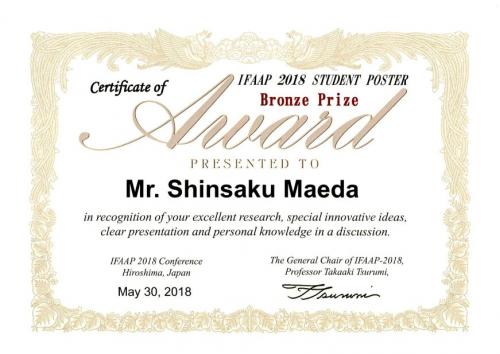 Award winner
Shinsaku Maeda, Department of Life Science and Applied Chemistry,Advanced Ceramics
(Kakimoto Laboratory)
IFAAP 2018 STUDENT POSTER Bronze Prize Award
IFAAP2018
Award-winning research
「Defect Charge Behavior in the Vicinity of Domain Walls」
Piezoceramics have been used for such as inkjet nozzles because their volume can change by applying electric field. The degradation of their properties has been reported, and that was caused by repeated use. However, no direct observations have been reported, although its source has been assumed to be the migration and the accumulation of oxygen defects in crystal lattices. In this research, we observed new layers formed by the accumulation of oxygen defects at the white line by using piezoresponse force microscopy. The result is expected as a breakthrough for "fatigue" effect.

Award winner's comments:
I am very honored to receive this award. I greatly appreciate the support of my supervisors, Prof. Kakimoto, Ass. Prof. Fuchigami, and the laboratory members who actively discussed this study with me. I will do my best to my research to reveal "Fatigue" effect.
---