Frank Exchange of Ideas between the President and Students―Holding of the AY 2022 Campus Meeting
Category:News|Publishing : December 1, 2022
---
On Tuesday, September 27, the AY 2022 Campus Meeting was held at Learning Commons of NITech Hall. Campus meetings are held annually with the aim of creating a better university through a frank exchange of ideas among students, the president, executive directors, vice-presidents, and other relevant executives from administration bureau. The meetings in AY 2020 and 2021 were cancelled and replaced with questionnaire surveys due to the COVID-19 pandemic. This year, however, the event was held for the first time in three years and attended by 42 undergraduate, graduate, and international students.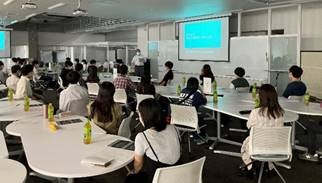 The theme of this year's meeting was "What to Expect from Universities in the Age of Coexistence with COVID-19".
First, group discussions were held among the students from the perspective of those who have experienced the COVID-19 pandemic, resulting in various opinions regarding, for example, classes, campus facilities, and social interaction.
Subsequently, the students discussed these matters with the president and other members from the university administration and secretariat.
The participating students commented that they were glad to have an opportunity to convey their thoughts clearly and that the exchange was meaningful.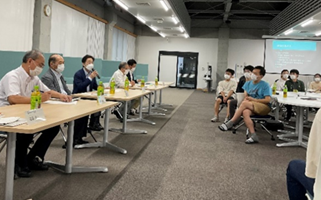 ---