Staff of Nagoya Institute of Technology Participate in the Erasmus+ Programme at Friedrich-Alexander-Universität Erlangen-Nürnberg (FAU), Germany
Category:News|Publishing : March 31, 2023
---
Nagoya Institute of Technology (NITech) and Friedrich-Alexander-Universität Erlangen-Nürnberg (abbreviated as FAU) have been selected to participate in the EU's Erasmus+ Programme*. Last year, FAU's faculty and staff visited NITech and had significant interactions with NITech's faculty and staff, and students.

Under the Erasmus+ Programme, faculty and staff members of Friedrich-Alexander-Universität Erlangen-Nürnberg (FAU), Germany, visited Nagoya Institute of Technology
From December 11 to 17, 2022, two staff members of NITech participated in the Erasmus+ Programme with FAU. This program with FAU was the first opportunity for NITech's administrative staff to participate in the Erasmus+ Programme.
During their participation in the Erasmus+ Programme, they listened to presentations on the implementation status of the Erasmus+ Programme at FAU and its international and educational work from Ms. Bianca Köndgen (Central Office of International Affairs / Erasmus Institutional Coordinator) and other staff in charge of international relations at FAU, and exchanged views with participants from other countries. In addition, a tour of the cities where FAU's campuses are located and individual meetings with staff from the personnel and finance departments were held. This provided a very significant opportunity for them to learn and interact with FAU from the perspective of the university staff.
NITech is actively involved in interactions with FAU not only through the Erasmus+ Programme but also through the Japanese-German Graduate Externship by the Japan Society for the Promotion of Science, and further development of interactions is expected in the future.
* Erasmus+ Programme: As the EU's main education support program, it supports the exchange of students and faculty and staff members between European and non-European universities.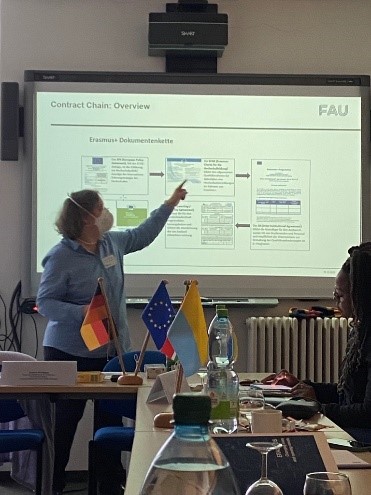 Ms. Bianca Köndgen's Presentation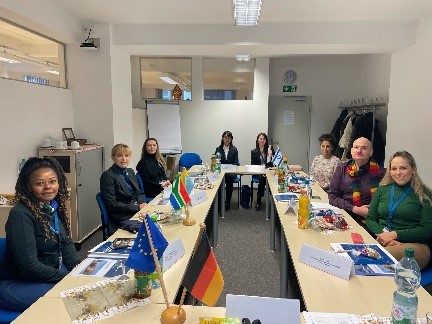 During the Meeting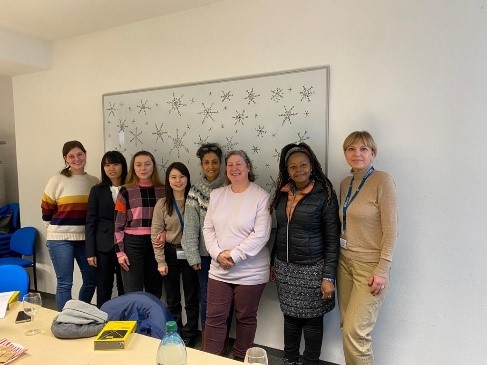 Group Photo with Participants of the Erasmus+ Programme





Related website
Japanese-German Graduate Externship-Energy Conversion Systems: From Materials to Devices
---