Research Paper by Professor Shibata Featured in The Chemical Record, Accompanied by Striking Frontispiece Artwork
Category:News|Publishing : September 20, 2023
---
A fascinating research paper authored by the Shibata group is featured in The Chemical Record, a prestigious international scientific journal co-published by Wiley-VCH GmbH and the Chemical Society of Japan. The paper, titled "Current State of Microflow Trifluoromethylation Reactions," boasts striking frontispiece artwork, as seen in Figure 1. The article was co-authored by Associate Professor Yuji Sumii from the Department of Engineering (Life Science and Applied Chemistry) and Professor Norio Shibata, who holds dual appointments in the Department of Nanopharmaceutical Sciences and the Department of Engineering (Life Science and Applied Chemistry).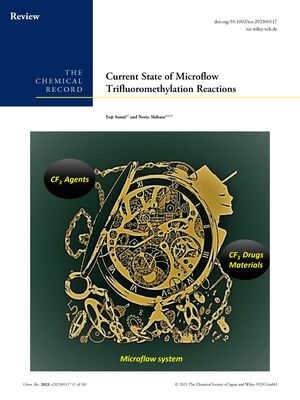 Fig. 1 Work used as "Frontispiece Art"
The eye-catching frontispiece was produced through collaborative effort with a painter specialized in traditional Japanese art styles. This artwork encapsulates the intricate mechanics of trifluoromethylation reactions, as visualized through state-of-the-art engineering techniques. This illustrates a young girl engrossed in the enchanting universe contained within a finely crafted pocket watch, where trifluoromethylation reagents flow elegantly. The pocket watch represents a microflow system infused with various color shades from a range of fluorinated compounds, inviting onlookers to enter the inspiring world that the girl is currently encountering.
Professor Shibata and his research team ardently uphold the view that science is an infinite canvas for creativity rooted in the symbiotic relationship between engineering and art. Since 2013, they have consistently unveiled a series of collaborative artistic projects involving experts in traditional Japanese paintings. The current artwork marks their 28th collaboration, offering viewers a nuanced appreciation of cutting-edge engineering concepts.
<Journal containing this article>
 Journal name: The Chemical Record
 Title: Current State of Microflow Trifluoromethylation Reactions
 Authors: Yuji Sumii and Norio Shibata
 Article information: doi.org/10.1002/tcr.202300117
Website containing the published article
---