PERSON : Ms. SIVARANJANI JAYAPRASAD (India)
This corner focuses on a person who has made remarkable achievements at NITech.
April, 2016
Ms. SIVARANJANI JAYAPRASAD (India)
Department of Architecture, Civil Engineering and Industrial Management Engineering of Graduate School of Engineering
Toshikazu Kitano Laboratory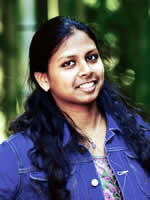 I have always got a dream worth more than my sleep. It would be apt to put in this way, a dream that took me all the way from India. Exposures at Indian Space Research Organization and the acquaintance at the prestigious portals of College of Engineering Guindy, Anna University-India, made me to bloom myself as a Geo-Informatics Engineer. I always urge working in a challenging workplace that keeps myself occupied. I was looking for a platform to get myself discernibly sculpted in the field of Coastal and Oceanography. In the pursuit of the answer, I found myself in Nagoya Institute of Technology – a leading engineering institutes located at the heart of Japan with the stupendous 100 years of history, a higher education facility and an excellent learning environment.
I am currently pursuing my master degree in the field of Coastal and hydraulic engineering under the Department of Civil, Environmental and Architecture. My research is analyzing the non-stationarity and the in-homogeneity of some rare events like extreme rainfall. I use Bayesian modeling techniques to study the non-stationarity and in-homogeneity. And I am now dealing with the heavy rain that occurred at Tokai region in 2000 and the rain that stroke Chennai, India, in 2015, and I further do research in analyzing the structures and nature of the water-disaster events, which will contribute in the infrastructure development.
I work in Coastal and Hydraulics lab under Prof.Toshikazu Kitano. My professor not only guides me in exploring directions in my research work but also engages with me directly for all discussions. He is very supportive both technically and personally. NITech have also given me many international friends and I feel so happy to learn cultures from different parts of the world. If I have to describe my life in NITech and Japan, it will be better to state, "feeling at home". Being a foreigner, I am feeling safe and secured at NITech and Japan. The Infrastructure and the transportation in Nagoya made me spellbound and it's very convenient to access all the places from NITech. The first six months "Intensive Japanese Language program" at NITech helped me in overcoming a lot of challenges in my research and daily life. I am so happy and blessed to learn the Japanese culture and their work culture.
I entered NITech through "International Graduate Program for Global Engineers - 2014". I always dreamt of working in a construction company that deeply focuses on the coastal and ocean research works and I am now engaged in the chasing the dream I dreamt. After getting an exposure to Japanese work culture through "Kojyocho Youseijyku- Plant Manager Training School", I aim to contribute to the best of my knowledge and ability for the benefit of the society as well as the Industry.
Life at NITech, have always been a Treasure hunt for me. Despite of my research part, I always loved to be in an International environment and that made me to apply for INTERNATIONAL SUMMER PROGRAM OF SUSTAINABLE MANAGEMENT IN THE ERA OF BIG DATA. It was conducted by Tokyo University and ICHARM-Tsukuba, and I was lucky enough to be one among the thirty participants from almost all the parts of the world. My professor at NITech have always been on my side in my research path making way for achieving BEST PAPER AWARD at INTERNATIONAL CONFERENCE OF ASIAN AND PACIFIC COAST-2015. As a student of NITech, I am lucky enough to showcase my dance talent at many International parties. I also received valuable advice and assistance from the placement office and my seniors when hunting for a job. The most important thing that made my career to sprout out was the Japanese lessons at NITech and I am thankful for all staffs at the International Students Center.
Japan is a country where they don't always speak your language, but no matter what the situation, they are ready to help you if you have any problems. NITech is very well equipped with all the techniques for learning. It not only has good facilities, like the library and the clean area, but also you have the opportunity to learn from the best, from the cream of the crop. I am having an extremely rewarding life at NITech campus. It is the best place for those who have a dream more worth than their sleep.
---