PERSON : Mr. Issa Mubarek Mohammed (Ethiopia)
This corner focuses on a person who has made remarkable achievements at NITech.
May, 2016
Mr. Issa Mubarek Mohammed (Ethiopia)
Department of Electrical Mechanical Engineering of Graduate School of Engineering
Naoki Mizuno Laboratory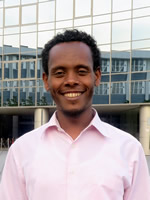 First of all, I am really grateful having this opportunity to write. I used to work in Ethiopian institute of agricultural research in agricultural machinery research sector. I don't remember the time exactly but it was around one and half years ago, I got a phone call from my boss and from that phone call I heard about coming to Japan. Can you imagine that it was really awesome news in my life? After that news I started to check profiles of universities in Japan that is listed by Abe Initiative scholarship. From that profile check I was interested in Nagoya Institute of technology. Because this university has what I really needed to study that is, studying in the field of mechanical engineering.
I am studying in the department of Mechanical Engineering field, under the stream of electro mechanical engineering. My research area focuses on the improvement of robotic small scale wheat row planter.
It is obvious if go out from your country you will face cultural and traditional difference. Even if I had some information about culture and tradition of Japan when I came to Japan I got kind of confused, but within a short period of time I got used to it. As far as I can tell life in Japan especially in Nitech is exciting. Because I am getting support in every aspect of my life in Nitech. Especially my Professor Mizuno Naoki, my lab mates and others like international student's office, my scholarship office and from foreign students. For that I am really grateful. In general life in Nitech is safe, exciting and enjoyable.
The major objective of my scholarship is establishment of the linkage between African countries and Japan. To achieve this objective, African youths are given a wonderful opportunity to do their Master degree in any of the universities across Japan. Beside of the master program we will have internship at Japanese companies. Having said that, I am planning to engage with Japanese companies interested in making business in Africa especially in Ethiopia. In general I want to become an entrepreneur and an agent for the Japanese companies. Nitech has a good reputation, when it comes to the field of technology, along with its world renowned laboratories and outstanding Professors; it makes me immensely proud to be a student and to achieve my dream. The institute gives me an opportunity to interact and communicate ideas with some of the great minds in Japan. I believe that I will be able to produce an impact in the field of engineering due to the guidance from the institute. Besides academic achievement I am having an experience of different countries culture and traditions.
I would like to give a short message for the students who are coming to study in Nagoya institute of technology, if you have an opportunity to study at this University it is going to be great, because you are going to join the University of Nitech that is well equipped in every aspect.
---