Mr. Syukri Sani receives the IASTEM Excellent Paper Award at the IASTEM International Conference
Category:Award|Publishing : June 28, 2016
---
  Mr. Syukri Sani, Department of Scientific and Engineering Simulation of Graduate School of Engineering (Keisuke Kitagawa Laboratory) receives the IASTEM Excellent Paper Award at the IASTEM International Conference held in Tokyo, Japan on 20th June 2016.
  Virtual reality is an emerging technology of recent years. It has the potential to enhance an architect's imagination, space perception and decision making skills. These potentials could contribute significantly in improving the architectural design process. The objective of this paper is to highlight virtual reality as a useful tool for architectural education and to make it more accessible. Through interviews, surveys and analysis of common virtual reality components, an integrated Virtual Architecture Design system called VAD has been created. The system supports design and interaction of an architectural space within a virtual environment. This integrated system is composed by a number of equipment and software that is easily available in the current market. A brief discussion on its advantages and limitations is presented as well. Public awareness is also an intention of this paper in hope that users of VAD could further develop and innovate the system.
Research Statement and Benefits by Virtual Aided Design (VAD)
Award winner's comments:
  Receiving the IASTEM Excellent Paper Award at the IASTEM International Conference held in Tokyo, Japan on 20th June 2016 was an honor for me. It was my first presentation at an international conference. I hope it will be the start of many bigger achievements to come.
  Getting this award is not without the help and support from many party, especially Assoc. Prof. Keisuke Kitagawa for his exceptional supervision and Karri Flinkman for his superb guidance. I would also like to acknowledge Nagoya Institute of Technology for providing me with the International Graduate Program for Global Engineers (IGPGE) scholarship to make this research possible. My family also plays a part by giving me the upmost motivation in driving this research forward. Not to forget, Kitagawa Laboratory also provided with all the facilities and support to make this research a success.
  From this award, I hope this research on Virtual Aided Design (VAD) will receive enough awareness from the architectural design community, especially in architectural education and students alike to use virtual reality as the next-gen tool for design and creativity. It could change and improve the way we perceive and interact with architecture itself in a way that has never been done before.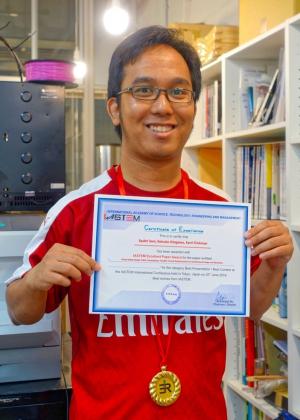 ---