Mr.Isao Kato receives Outstanding Paper Award at 2016 International Conference on Engineering and Natural Science - Summer Session
Category:Award|Publishing : July 19, 2016
---
  Mr.Isao Kato,Department of Architecture,Civil Engineering and Industrial Management Enginieering of Graduate School of Engineering receives Outstanding Paper Award at 2016 International Conference on Engineering and Natural Science - Summer Session held in Kyoto,Japan,July 12-14,2016.
"Decision-driving protocol for orchestration of R&D programs"
  In the previous papers, a strategic management framework for research and development projects has been proposed with the required functionalities of the framework. In this paper, indispensable "decision-driving protocols" are discussed to orchestrate corporate divisions under the framework. We believe that the conference committee may appreciate the proposed protocols can successfully explain how Inamori's Amoeba Management revived Japan Air Line, although there is no official comments from the committee yet.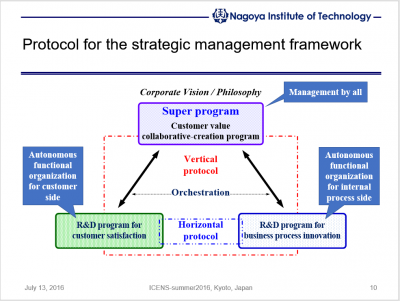 Award winner's comments:
  I believe this award is a praise concerning the outcomes which have been piled up the discussions with Prof. Koshijima and members of his laboratory since admission to the doctoral course. Based on this award, I would like to continue my efforts to develop engineering methodologies to realize my theoretical framework in actual R&D projects, and I hope to summarize my challenges in my doctoral thesis.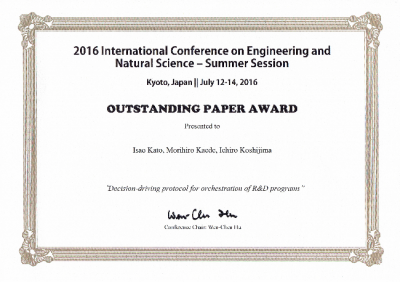 ---