Dr. Hitoshi Ohsato won the Society Fellows 2016 of the American Ceramic Society
Category:Award|Publishing : November 10, 2016
---
At the American Ceramic Society Honors and Awards Banquet at 118th ACerS Annual Meeting, Dr. Hitoshi Ohsato received Society Fellows 2016. The main reason of his Fellow is the continuous contribution to the ACerS through significant research on electro-ceramics based on crystallography. The American Ceramic Society is an international conference which not only American but also many researchers around the world on ceramics study belong to.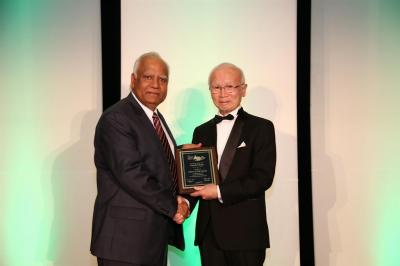 Fellow presented by President Mrityunjay Singh
Dr. Hitoshi Ohsato graduated Nagoya Institute of Technology (NITech) with a master degree in 1970. He built up a career of researcher at NITech and universities in the United States, and became a NITech professor in 1999. After the retirement 2008, he continued the research as a project professor here until this March.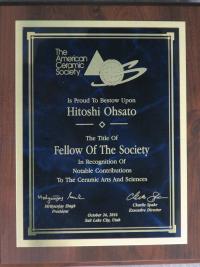 Award certificate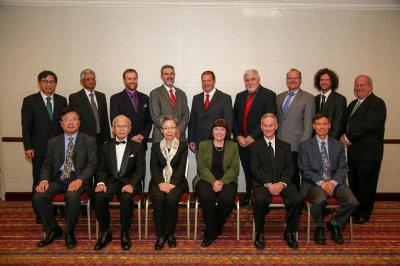 With other Fellow wineers (Dr. Ohsato = 2nd left, front raw)
---