Mr.Ken Ohno receives IEEE CES West Japan Chapter Young Researcher Award of GCCE 2016
Category:Award|Publishing : November 30, 2016
---
Mr.Ken Ohno,Department of Computer Science of Graduate School of Engineering receives IEEE CES West Japan Chapter Young Researcher Award of GCCE 2016 held in Kyoto,Japan,October 11-14,2016.
Security Mechanism for DASH Agent Framework
Traditional mobile agent framework has some problems such as unencrypted data transmission, presence of malicious hosts and no limitation for undesirable actions. To solve these security issues, we newly proposed security mechanism that provides function of encryption, host authentication and limitation of agent's action.
By designing and implementing this mechanism, we achieved the improvement of practicality of mobile agent framework.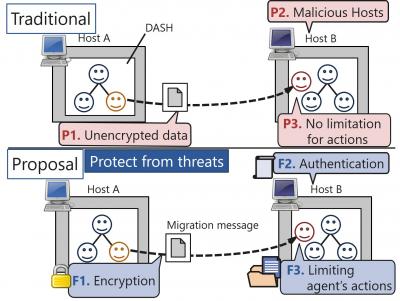 Award winner's comments:
We evaluated and confirmed the effectiveness of proposed security mechanism. We will tackle in the further expansion of the proposed mechanism by introducing user interface to set security level, and we would like to enhance the value of our mechanism as operation tool of mobile agent system.
---