Shirai Laboratory's research paper selected as "Front Cover" of Journal of Materials Chemistry C
Category:News|Publishing : October 21, 2022
---
The Shirai Laboratory's research paper titled "A novel sustainable and green mechanochemical route from a (HSiO1.5)n polymer to emissive silicon nanocrystals" was highly evaluated and selected as the front cover of the Journal of Materials Chemistry C (Impact Factor: 8.067) published by the Royal Society of Chemistry. The paper is on the laboratory's development of synthesis of functionalized silicon nanocrystals using a mechanochemical local reaction field and a (HSiO1.5)n polymer as a starting material.
The earth's rocks contain silicon resources abundantly. Silicon nanocrystals produced from silicon resources are inexpensive and non-toxic. They have specific light absorption and emission properties that depend on the particle size due to the quantum confinement effect. Expectations for silicon nanocrystals are high as functionalized semiconductor nanoparticles applied to next-generation light-emitting devices and photoelectric conversion. (HSiO1.5)n polymers are inorganic materials with features such as inexpensiveness and ease of synthesis. They are widely used in recent years as a precursor for silicon nanocrystals. The conventional silicon nanocrystal synthesis process, however, has problems, such as the need for high temperatures of 1,100°C or more and for feeding of hydrogen for a long time.
The present research found a novel mechanochemical reaction route through which silicon nanocrystals and the SiO2 matrix are formed by applying mechanical energy to a (HSiO1.5)n polymer with a planetary ball mill at room temperature. Moreover, the study elucidated the reaction principle in detail by subjecting solid (HSiO1.5)n components processed under different mechanochemical conditions to a detailed chemical structure analysis and qualitative and quantitative analysis of gaseous products. In the course of the mechanochemical process, hydrogen was generated as the Si-H bond in the (HSiO1.5)n molecule was dissociated; the generated hydrogen acted as a reducing atmosphere in the reaction vessel to facilitate the generation of silicon radicals and rearrangement of Si-O-Si bonds; thus, the study was successful in realizing a process free of the feeding of hydrogen. Additionally, by adjusting the ball size and the process time of the mechanochemical process conditions, it became possible to easily control the size of silicon nanocrystals. Furthermore, chemically etching the SiO2 matrix was successful in selectively extracting silicon nanocrystals surface-modified with hydrocarbons and in synthesizing emissive silicon nanocrystals capable of being well dispersed in polar solvents. The synthesized silicon nanocrystals exhibit emissive properties in the visible light region and high emission efficiency and are anticipated to be applied to solid-state light sources and next-generation light-emitting devices that can be fabricated by a solution coating method.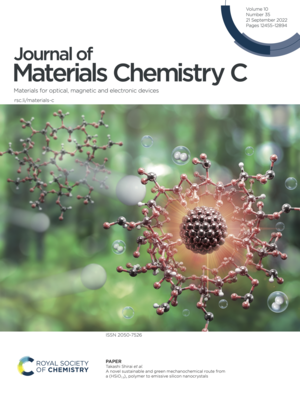 <Published article> A novel sustainable and green mechanochemical route from a (HSiO1.5)n polymer to emissive silicon nanocrystals
<Description of the article> Front Cover
<Journal in which the article was published> Journal of Materials Chemistry C, 10, (2022) 12588
---